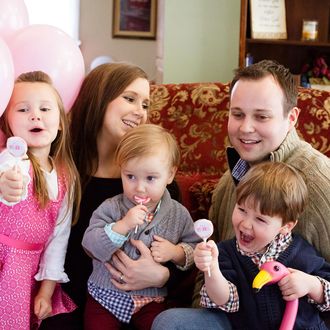 It's probably a goner.
Photo: Courtesy of TLC
In the wake of 19 Kids and Counting star Josh Duggar's revelation that he sexually abused several young girls when he was a teenager, TLC is taking episodes of the show — which had its latest season finale on Tuesday — off the air. The network sparked outrage on social media Thursday night after airing a marathon of the series following Duggar's admission. Mama June, the star of another of TLC's former hit shows embroiled in a similar controversy, has publicly called for the series' cancellation. Given her show's fate, it's safe to put 19 Kids on Here Comes Honey Boo Boo death watch.