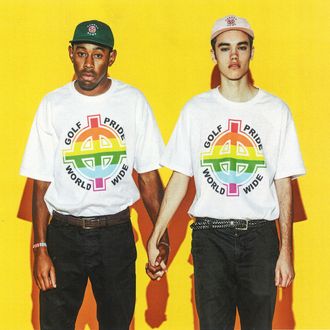 Nice try.
Photo: golfwang.tumblr.com
Tyler, the Creator's career has been fraught with controversy over his problematic lyrics. He's been accused of negligently tossing around rape jokes, casually using homophobic slurs, and, as one writer summed it up, "inciting hatred." In the past, Tyler has defended his use of the other F-word, telling NME in 2011, "I'm not homophobic. I just think 'faggot' hits and hurts people. It hits. And 'gay' just means you're stupid. I don't know, we don't think about it, we're just kids." Tyler's 24 now, and he's finding more creative ways to respond to critics. For the spring/summer collection of his merchandise, Tyler has taken a firm stance on homophobia with a T-shirt that appropriates a logo used by the White Nationalist Community group Stormfront (considered to be a neo-Nazi subset and founded by a former Ku Klux Klan member), bearing their slogan, "White Pride World Wide." Only Tyler's shirt replaces "White Pride" with "Golf Pride" (a nod to his own "golf wang" slogan) and portrays the Celtic cross in rainbow colors meant to evoke gay pride: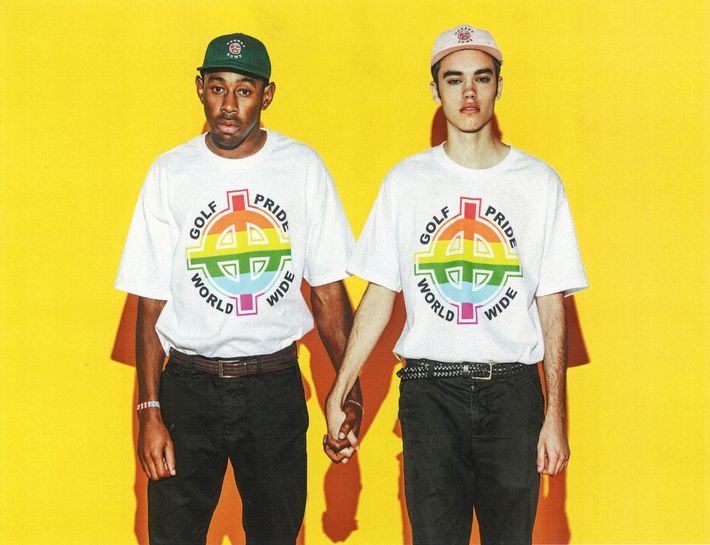 Of the warped symbolism, Tyler explained in a lengthy Tumblr post:
"What if a black guy wore this logo on a shirt? Would he be promoting self hate? Would he be taking the power out of a shape? What if a gay guy wore this on a shirt? Would he [be] promoting Homophobia? Then BAM! I Had it. Throw a little rainbow in the logo … and take a photo with a white guy in it and we have an amazing photo. The thing that tops it off is the homo erotic tone of the hand holding, which to some degree HAS to piss off the guys who takes this logo serious. This made the photo even more important to me, because it was me playing with the idea of taking the power out of something so stupid."
It's not the first time Tyler or his group Odd Future have appropriated Nazi iconography. They've previously used swastikas in their promotions and famously referred to themselves as "black Nazis" in Tyler's "Seven." It it is, however, the first time Tyler seems to have put any thought into why he employs the disturbing propaganda. And while it's still mostly for shock value, Tyler says there's a larger point:
"Ever since my career started, i've been labeled as a homophobe, simply because of my use of the word faggot. Again, trying to take the power out of something, I WAS NEVER REFERRING TO SOMEONES SEXUAL PREFERENCE WHEN USING THAT WORD. I mean, i'm legit one of the least homophobic guys to walk this earth but, most people just read the surface."
In other words, these T-shirts are Tyler's way of showing support for those he may have offended — without ever actually apologizing for his grievances. But the problem with this new merch isn't the message, it's the translation: Using the language (in this case, imagery) of an oppressor to stand in unison with an oppressed community he's shown zero regard for — while still defending a right to "take the power out" of a word that his straight cis privilege has never allowed him to feel powerless — misses the mark. And it reeks of self-righteousness.