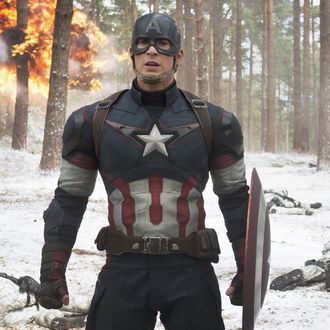 The Avengers: Age of Ultron saw a 30 percent decline in ticket sales Saturday, as moviegoers apparently opted to watch Floyd Mayweather Jr. punch Manny Pacquiao in the face instead. The fight pulled in $400 million from 3 million individual Pay-Per-View customers, who each dropped around $100 to watch the fight, Deadline reports.
Regardless, Ultron still had the second-highest-grossing weekend debut ever, with $187 million in three days, trailing only its predecessor, which clobbered its way to $207.4 million in 2012. If it weren't for the fight, Ultron might have usurped its progenitor. Either way, that means the top three highest-grossing opening weekends all belong to Marvel: both Avengers movies, and Iron Man 3. Every other film got kneecapped by Joss Whedon's mega-budget superhero sequel, with most dropping at least 50 percent this weekend. Ultron earned a super $200 million overseas last week, so even with its slight bump on the chin courtesy of Floyd Mayweather Jr. (boooo), it's still on pace to make a lot of money.
The big surprise of the weekend is that Age of Adaline topped Furious 7, which finally shows signs of running out of gas. Adaline nabbed $6.25 million, while Furious 7 made $6.1 million. Sure, it's not Ultron money, but it's impressive nonetheless.