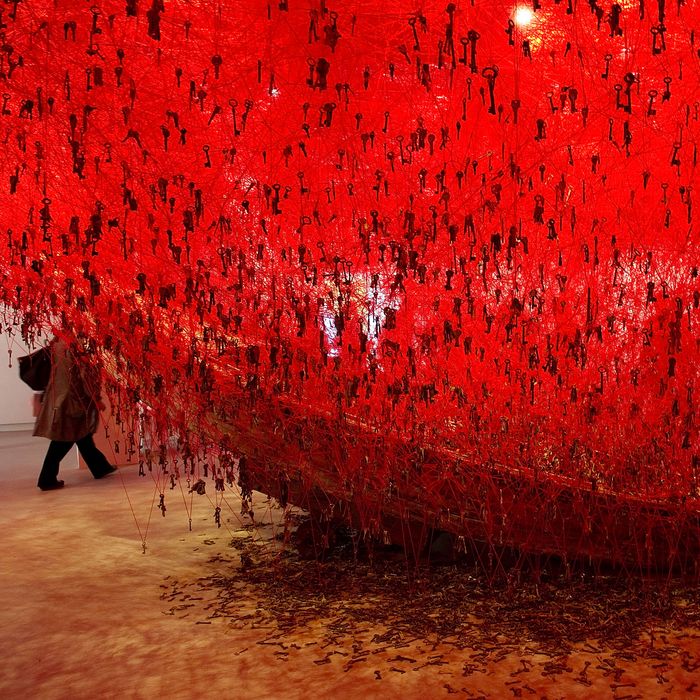 Chiharu Shiota's installation A Key in Hand.
Photo: Awakening/Getty Images
The Venice Biennale dates to 1894, part of the late-19th-century version of globalism, which inspired lots of international expositions when it was possible but not all that easy to travel the world (think Paris's in 1889, when the Eiffel Tower went up, or Chicago's in 1893, which inspired that Erik Larson book). Soon the national pavilions started going up: Belgium (1907), Hungary (1909), Germany (1909), Great Britain (1909), France (1912), and Russia (1914), and then resumed again after the first World War, and again after the second.
So going to the Venice Biennale is like getting a tour of dozens of different countries, each with its own showcase, all in the course of a day. It's a bit like going to Epcot, but instead of some animatronic puppets celebrating progress and capitalism, you have contemporary art from around the world showing off whatever that country's arts elites think is appropriate to show the world.
Let's be honest: Zipping around the Biennale can be even better than actual travel (at least once you finally get to Venice itself). At the end of each day on the canals, all global citizens come together and drink Prosecco on porches, gazing out at the fruits of their collective creative labor. Communing with the diversity of humankind, no passports or TSA agents necessary.
But what if you took the Venice Biennale as your Let's Go guide? In the interests of reviewing the full sweep of the exhibition as well as planning my insanely awesome dream vacation, I took a tour through the national pavilions to see what they had to say about the potential of their home countries for tourism. In the Monocle era, no country can go un-branded.