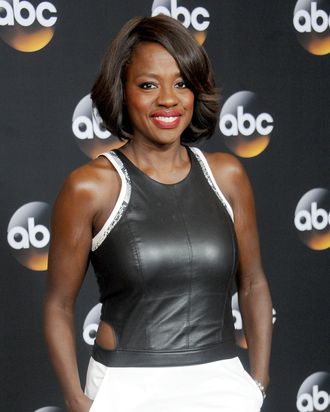 Viola Davis.
Photo: Gregg DeGuire/Getty
At last week's How to Get Away With Murder For Your Consideration panel, Viola Davis schooled Academy voters about why she had to take the role of powerhouse attorney and law professor Annalise Keating. "Annalise Keating is completely different from anything anyone's ever given me," she told the panel, which was taking place on the show's set in Hollywood. "When someone is described as sexual and mysterious and complicated and messy, you don't think of me. I thought it was a really great opportunity to do something different, to transform into a character that people weren't used to seeing me in. I wanted a role to reflect the full scope of my talent, and I was tired of being the third girl from the left, feeling like I was jumping up behind Meryl Streep or a Julianne Moore, saying, 'I've been doing this for 12 years, I'm playing a maid, I've got two lines.'"
But did Davis immediately say yes to the role? Not quite. She suggested and insisted on one of the show's best known scenes.
"Before I got the role, I said, 'Shonda, Pete, Betsy, I'm not gonna do this unless I can take my wig off.' It's like Rosalind Russell said, acting is like stripping naked in front of an audience and turning around really slowly. One of the reasons I stopped watching TV was that I didn't see myself on TV. I'm not just saying as a woman of color or a woman of 49, but just as a person. I see a lot of sexy women who are hard, cold, look like they have windswept hair and lip gloss and light makeup when they say it's no makeup. I work out five days a week, and I'm still not a size 2. So I wanted to see a real woman on TV. I wanted to see who we are before we walk out the door in the morning and put on the mask of acceptability — 'Please see me as pretty, please love me.' There was something for me that I didn't buy about Annalise in private. It felt like who she was in private had to be diametrically opposed to who she was in public. And so in order to do that, I felt like I had to physically take the wig off. I mean, I have no eyebrows. I have eyelashes that I put on, and there was something extremely vulnerable about that act — and I know it seems like a very simple act at the end of the day — but for me, that simple act really surmounted to something very powerful in the end, because what it was was someone being very, very private in public, which is absolutely the cornerstone of what we do as artists. I didn't just want to walk in heels like I was a supermodel. Who does that? That was how that scene came about. I didn't want to wake up in bed thinking that this is how I really look. I wanted to woman up, and I wanted to actor up, too."
No objection. Counselor, you've made your case.