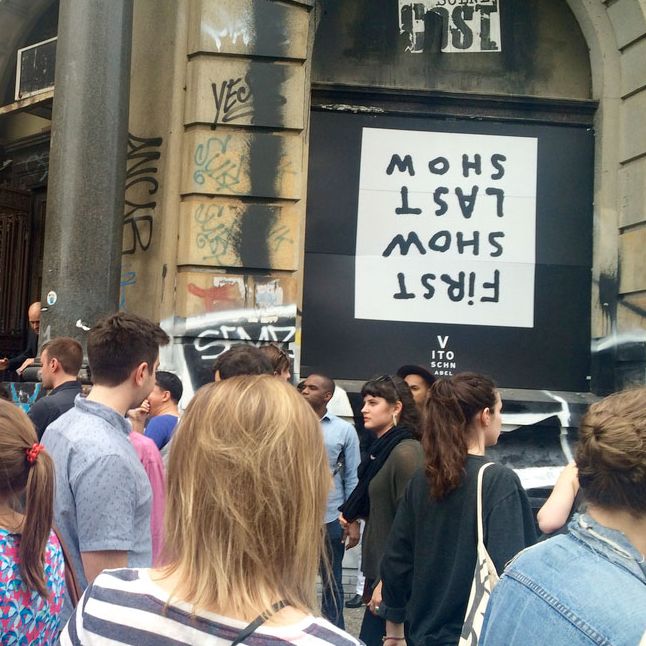 The crowd outside 190 Bowery.
Photo: Rachel Corbett
Hundreds of people mobbed the corner of Bowery and Spring on Saturday evening hoping to get a glimpse inside the spectacular old Germania Bank building at 190 Bowery, which was supposed to open to the public for the first time in 50 years. Developer Aby Rosen paid $55 million for the graffiti-covered Gilded Age monument — previously occupied by the family of photographer Jay Meisel, who bought it for the bargain price of $102,000 in 1966, when that was a lot of money for a hulking old bank building on the Bowery. Curious neighbors have been forced to break in just to get a glimpse.
Which is why a public opening on May 16, curated by Rosen's well-connected young friend Vito Schnabel and featuring works by Dan Colen, Harmony Korine, and Jeff Elrod, among others, was quite intriguing — until, alas, it became the opposite of public. When the unwashed masses who'd caught wind of the event arrived intent on seeing Schnabel's "First Show/Last Show," iPad-wielding hostesses turned away anyone lacking an appointment, which was pretty much everyone.
"Please go on our website, vitoschnabel.com — the spelling's on either side of the building — and we will do our best to schedule an appointment for you in the next two weeks," a staffer announced to the crowd.
Some begged anyway. One guy ordered a pizza to use as a bribe. Others sulked on the sidelines grumbling about publicity stunts. The crowd seemed genuinely upset that they couldn't see a group show made up entirely of white male American artists, as if such a thing had never happened. Or perhaps they just wanted to see the inside of the long-shut building — how many times have you walked down the Bowery, gazed up at the massive mansion, and imagined what it was like inside?
When we found him at the opening, Schnabel said the decision was purely practical.
"Hundreds of people were emailing my website and it just seemed like it was getting out of hand," he said. "I wanted to protect the space and the art."
Though he did profess sympathy for the rejected hoi polloi.
"So many people have been wanting to come in here for so long — I understand," he said.
But … not quite enough sympathy to let more than a handful of close friends and VIPs into the six-story, 72-room building. The dozen or so guests — which included Fifty Shades of Grey actress Dakota Johnson, former MoMA board chair Agnes Gund, and Schnabel's girlfriend, Heidi Klum — paced the worn wood floors looking at huge, pajama-purple canvases by Julian Schnabel, a series of still-wet Korine house-paint collages, and a Colen trash painting with a traffic cone and granny cart sticking out of it, among others. Vito Schnabel explained that some of the works are for sale (Korine's come courtesy of Gagosian Gallery), some are from his personal inventory (a computer-generated Elrod painting), and some are on loan from private collections (one of Mark Grotjahn's prismatic circus paintings).
And, yes, all are by white men, as has been the cause of much media consternation.
Oddly, the inspiration for the show came not from the Beaux-Arts masterpiece that houses it, Schnabel said, but from a cavernous New Jersey storage space where many of the paintings once hung. "I thought I could re-create that room in here with different artists that I respect and love," he said. "The proportions of it are similar."
So make an appointment now to see what must be the nicest art storage facility in all of Manhattan. Soon it will be home to a new conglomeration of photography, fashion, and creative agencies.
This new tenant's president told The Wall Street Journal that since he sees the company as being "literally at the intersection of chic and gritty," the years of graffiti will not be cleaned from the outside of the building.