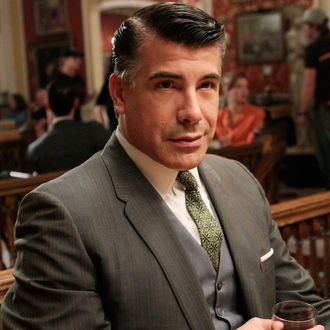 Poor Sal.
Photo: Carin Baer/AMC
We'll never know what happened to Mad Men's Salvatore Romano — Matthew Weiner opted not to give that character closure before the series' end. But it appears that wasn't always the plan. At a panel with the show's writers, Entertainment Weekly's Anthony Breznican got a hold of what he calls Weiner's "wish list of plot points to cover before the finale":
Seventeen of the 30-plus items are at least partially or fully crossed off, suggesting Weiner either fulfilled those wishes or changed his mind. Plenty of them are loose ends left untied, but the most surprising one has to do with fan-favorite Sal. It appears Weiner, too, wondered what the hell happened to Sal after Don fired him in season three, and his character was abruptly written off the show. Bryan Batt, who played Sal, has suggested that his character wasn't intended to disappear for good, and "Sal — what happened to him?" remains uncrossed on Weiner's list. It's nice to know Weiner at least considered inserting another bit of fan service into his show's final season.
We'll just have to live with the future Batt dreamed up for Sal: "I imagine him walking through the West Village as Stonewall happens and getting swept up in it." Or maybe he ended up in Don's yoga class?