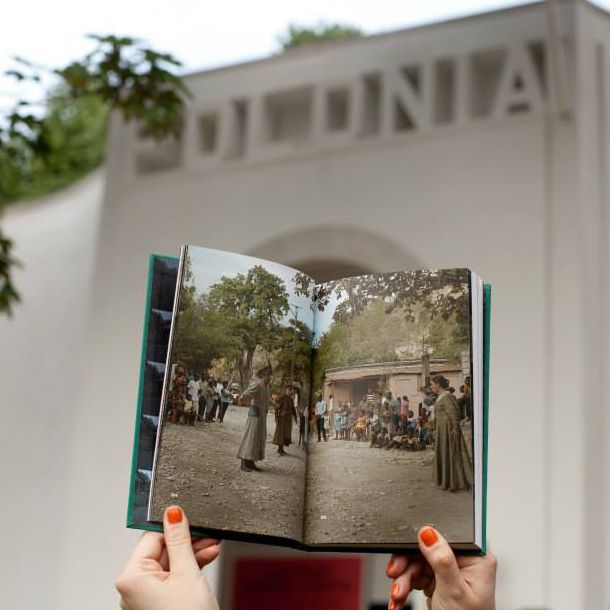 Photo: Courtesy of Dushko Petrovich/Facebook
Painter and writer Dushko Petrovich, one of the editors of Brooklyn's occasionally appearing arts journal Paper Monument, maintains a Facebook page on which he gnomically "blogs" about his life in the art world. Herewith, a sample of Petrovich's star-fucking-free thoughts and micro-observations on the first several days of the Venice Biennale, where he is helping produce the Polish pavilion. 
1. Venice Blog: I am really glad Joan Jonas is representing the U.S., but I confess that I couldn't get into the work. I wanted to go back, but there is a line like at the DMV.
2. Venice Blog: On the second floor of the Russian Pavilion, you walk over a Plexiglas rectangle and peer down on a large video of worms writhing in dirt. Irina Nakhova, the artist, told us it was a soothing reminder that nature will reclaim us. Soothing because "history is unbearable."
3. Venice Blog: The best thing in the Romanian pavilion is a portrait of Lenin.
4. Venice Blog: The Serbian pavilion has an amazing title and concept: United Dead Nations. But then all you get is an empty room with dead nations' names and dates of existence, plus flags that have been dragged along the floor. I would like to redo this pavilion in a more robust manner, and I hope, as a Serb whose father was born in the former Yugoslavia, I have some kind of right to do so.
5. Venice Blog: The Danish pavilion features Danh Vo and some €325 tequila, so I'm assuming I have to read a lot to find out why this is interesting.
6. Venice Blog: Japan's pavilion has this overwhelming network of red strings holding up old keys that cascade downward into piles on old boats. It is Venice kitsch perfectly translated into Japanese contemporary art.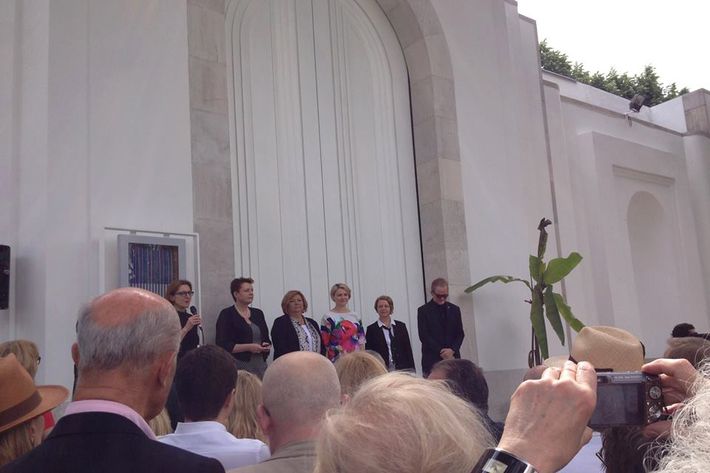 7. Venice Blog: The French pavilion has some interesting thing with uprooted trees producing sounds from their natural electricity, but then they ruin it with an uprooted wall text about life, nature, and the meaning of everything.
8. Food Blog: At an official brunch. First food of the day is Prosecco.
9. Venice Blog: The rush for tote bags.
10. Venice Blog: Everybody is bad-mouthing the yachts, but they'd be up there in a heartbeat if invited.
11. Venice Blog: I'm not tan; I'm turning orange from so many Aperol spritzes.
12. Venice Blog: All the white men in suits gather together for an aboriginal smoking ceremony to inaugurate Australia's new pavilion.
13. Food Blog: We finally had some mediocre food last night, which will make us more self-impressed with our food choices from now on.
14. Venice Blog: Gondolieri keeping their balance while families bicker in their boats.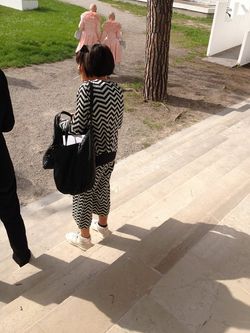 15. Food Blog: I spent my drink tickets on ice cream.
16. Food Blog: Giant prawns with the minister of culture.
17. Food Blog: When you're in Italy in a large group trying to decide what to eat and someone says pizza, it feels so good.
18. Venice Blog: We thought they were giving away metal bells at the Greek pavilion, but it turns out people were just taking them. By the time our friend arrived and asked for one, they were resigned to losing them all.
19. Venice Blog: People reading wall texts to other people who can plainly read for themselves.
20. Venice Blog: "Why is the Polish Pavilion showing photos of Africa?" "They're not photos, it's a film. And it's not Africa, it's Haiti."
21. Venice Blog: Your expensive designer glasses aren't helping you see basic things about life and culture — you should ask for a refund!
22. Venice Blog: The art-world douchebags make the regular tourists seem like fascinating people.
23. Venice Blog: I always prefer being behind the scenes. The scene itself is always so terrible.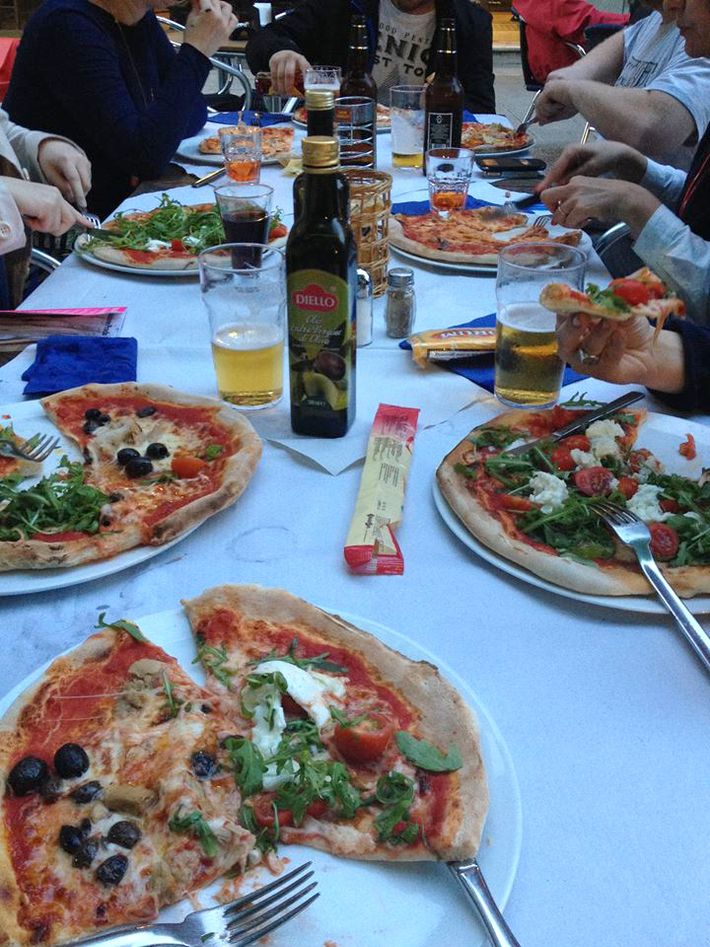 24. Food Blog: I like food that is good, but not so fancy that it takes attention away from the people with whom you are sharing it. For example, I like Italian food.
25. Food Blog: The tomato salad was just chopped tomatoes, and it was delicious.