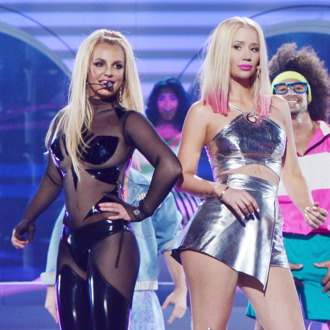 Yep, that's Iggy.
Photo: Denise Truscello/Getty Images
Sunday night, Las Vegas hosted the Taylor Swift, er, Billboard Music Awards. But if you only tuned in for Swift's mega-high-profile show-opening "Bad Blood" video or switched to Mad Men's series finale a couple hours in, here's what you missed. Because the Billboard Music Awards,  co-hosted this year by Ludacris and Chrissy Teigen, are based on who topped the charts within the previous year, Tay unsurprisingly spent a lot of time onstage racking up trophies — eight in total! Her ex, Harry Styles, and his Zayn-less bandmates also took home a couple awards, while a voiceless (but somehow still wordy) Sam Smith, an unrecognizable Iggy Azalea, and an absent Pharrell took home three awards.
But it wouldn't be an awards show for music's biggest names without a dozen performances ranging from Mariah Carey high-note bad to Tori Kelly breakout-moment good. Here are some of the night's most talked about clips and GIFs.
Kanye West: As the show's closing act, anything could've happened during Kanye's set. And it seems we'll never know what actually did happen, because between ABC's overzealous censor button and Kanye's blinding pyrotechnics, we couldn't see or hear a damn thing. Listen closely and you might be able to make out a sound bite or two from his "All Day" and "Black Skinhead" medley.
Mariah Carey: Leading up to her first appearance at the Billboard Music Awards in 17 years, things were pretty shaky. She had to cancel a night of her Las Vegas residency because of bronchitis and reportedly didn't show up for her final BBMA rehearsal. But the zero-chill queen came locked and loaded, with barely a backing vocal track in sight, to do a medley of "Vision of Love" and "Infinity." Say what you will about Mariah's exhausted-whistle register and that regrettable final high note, but we wouldn't dare give her less than an A for effort. Never, dahhhling.
Taylor Swift and Calvin Harris: Depending on whether or not you perceive Instagrams of cats as a valid declaration of love, Taylor Swift and Calvin Harris are two filthy rich artists who are about to join their bank accounts in holy matrimony any day now. (Or they're just dating.) Either way, Tay seemingly took Calvin as her date (or maybe he simply got lost in her crowded "Bad Blood" entourage, who knows?). Judging from this hug, though, we're sure Rita Ora was somewhere in the room glaring hard.
One Direction: You knew One Direction would win at least one award, but would they drop the infamous Z-word in their speech? They did! And it was kind of sweet, if you try not to envision Simon Cowell, somewhere backstage, feeding that line into Liam's ear. Frenemies for life.
Britney Spears and Iggy Azalea: The last we saw of Iggy Azalea (or Izalea, according to Ludacris) she was playing a ditzy martian in Britney Spears's new insane video. It makes sense, then, that for their live debut of "Pretty Girls," Azalea showed up even more in character, with a brand-new face. She's an extraterrestrial, guys! Looking human is so 2030.
Tori Kelly: If Scooter Braun says someone's a star, prepare to hear her name everywhere. His latest pet project is 22-year-old Tori Kelly (whom you may remember from American Idol and America's Most Talented Kid), and last night she got her very first corporate-sponsored Billboard debut with a performance of her single "Nobody Love." John Legend says it was the vocal performance of the night (which also included Mariah Carey, Faith Hill, and Kelly Clarkson, so that's some pretty high praise), and we've got to hand it to her.
Imagine Dragons: Before a legendary musician dies, he or she should have final say on who gets to perform their obligatory award show tribute. My guess is Imagine Dragons wouldn't have been at the top of Ben E. King's list to eulogize him with their twee rendition of "Stand By Me." Don't worry, Ben, the Soul Train Awards won't do you this way.
Little Big Town and Faith Hill: Tori Kelly might've outsung everyone Sunday night, but no one slayed better than Little Big Town, who were joined by the iconic Faith Hill for a bluesy duet of the former's "Girl Crush" — a song homophobic country radio stations have been banning for its presumed "gay agenda" because they never bothered to listen beyond the chorus. Leave it to Faith to undermine the haters.
Nicki Minaj: Nicki Minaj was apparently on everyone's mind Sunday night, despite not even showing up until late in the show. David Lee Roth name-dropped her during Van Halen's opening set and red-carpet watchers confused a completely different singer for Minaj. Nicki, as usual, had the last cackle with a double performance of two (!) of her Song of the Summer contenders, "The Night Is Still Young" and David Guetta's "Hey Mama."