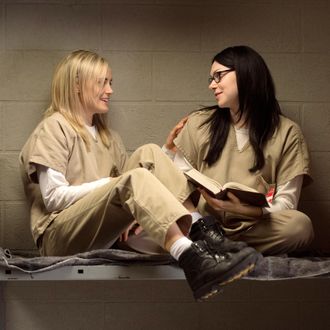 At the beginning of (and throughout) every month, Netflix Streaming adds new movies and TV shows to its library. Here is a quick list of several that you might be interested in. Some of these may also have previously been on Netflix, only to have been removed and then added back. Feel free to note anything we've left out in the comments below.
Orange Is the New Black (season 3) (available June 12)
The ladies of Litchfield return for a third season full of naked catfights, lesbian sex, and even more award-winning drama. (So say the Emmys.) The good news? Alex Vause is back. The better news? Larry is not. 
The Aviator (2004)
The second in Martin Scorsese's long and fruitful pairing with Leonardo DiCaprio finds Leo inhabiting the persona of eccentric billionaire Howard Hughes, who romanced starlets, designed planes, and produced some of Hollywood's earliest blockbusters before transforming into an obsessive-compulsive recluse in his old age. DiCaprio and Scorsese both nabbed Oscar nominations for the biopic, while Cate Blanchett won the Best Supporting Actress trophy for her dazzling impersonation of Katharine Hepburn. The film's glorious Technicolor design — Scorsese's love letter to the Golden Age of Hollywood — earned a small handful of Oscars as well.
Nightcrawler (2014) (Available June 10)
Jake Gyllenhaal lost 30 pounds to play shamelessly cynical journalist Lou Bloom in this dark-hearted satire of late-night local news. Gaunt and bug-eyed, Bloom patrols the streets of Los Angeles like a parasite, searching for images of urban mayhem to rile up scared suburbanites. It's some of the most interesting — and troubling — work of Gyllenhaal's career, and it earned the actor some dark-horse Oscar buzz earlier this year.
Beyond the Lights (2014) (Available June 24)
Why don't they make more movies like Love & Basketball? We're not sure, but with last year's Beyond the Lights, director Gina Prince-Bythewood had a fine follow-up to her 2000 hit. Gugu Mbatha-Raw stars as a talented young pop star battling industry demands who has an ambitious momager (Minnie Driver) and the growing sense that she's not in control of her own life. When a kindhearted cop (Nate Parker) saves her from a suicide attempt, the two fall into a slow-burning romance. As our critic Bilge Ebiri said, this is the rare film "that's at once fun, patient, romantic, and real."
Rosewater (2014) (Available June 10)
Jon Stewart's directorial debut may be most famous as the movie that gave us Last Week Tonight, but this sly, savvy political drama is worth watching in its own right. Set in the aftermath of Iran's Green Movement, the film stars Gael García Bernal as journalist Maziar Bahari, who was jailed and tortured by the Iranian government after being suspected of espionage. (Bahari's appearance on The Daily Show was used as evidence against him, part of the reason Stewart felt compelled to tell his story.) Indie film is full of dour dramas about bad things that happen to innocent people, but Stewart's history of satire adds shades of Kafka to the usual formula.
Lee Daniels' The Butler (Available June 16)
Before he made Empire, Lee Daniels brought his signature brand of enjoyably insane melodrama to 50 years of American history. A fictionalized account of the life of a real White House butler, the film stars Forest Whitaker as a servant who glides through the corridors of power as a selection of American presidents debate the civil-rights struggle, while his son (David Oyelowo) becomes a Freedom Rider, and later, a Black Panther. Daniels is hardly an understated director, and some of the casting choices — including Robin Williams as Eisenhower and John Cusack as Nixon — are frankly bizarre, but the non-presidential cast (which also includes Oprah as Whitaker's wife and ANTM's Yaya DaCosta as Oyelowo's militant girlfriend) is uniformly excellent.
Sense8 (season 1) (Available June 5)
What's the Wachowskis' new Netflix show about? No one's quite sure! The project was steeped in mystery for months, with only one trailer, released earlier this month, to light the way: Apparently, it's a show about "a closeted Mexican telenovela hunk, an Icelandic party girl, a German safe-cracker, a Korean businesswoman, an African bus driver, and a transgender American blogger," who all find themselves united by some sort of psychic link. Mmm, Wachowski-y.
NEW SEASONS OF TV:
Agents of S.H.I.E.L.D. (season 2) (June 11)
Bindi's Bootcamp (season 1) (June 15)
Danger Mouse (seasons 1-10) (June 15)
Dragons: Race to the Edge (season 1) (June 26)
Heartland (season 6) (June 17)
Really Me (seasons 1-2) (June 15)
Pretty Little Liars (season 5) (June 10)
Scandal (season 4) (June 13) 
Some Assembly Required (season 1) (June 19)
Team Toon (season 1) (June 15)
Wizards vs. Aliens (seasons 1-3) (June 15)
Young and Hungry (season 2) (June 26)
NEW SPECIALS:
Rodney Carrington: Laughter's Good (2015) (June 15)
Shaquille O'Neal Presents: All-Star Comedy Jam: Live From Atlanta (2013)
Shaquille O'Neal Presents: All-Star Comedy Jam: Live From Las Vegas (2014)
Shaquille O'Neal Presents: All-Star Comedy Jam: Live From Orlando (2012)
OTHER MOVIES AVAILABLE:
June 1
Employee of the Month (2006)
Hidden Kingdoms (2014)
La Dictadura Perfecta (2014)
R.L. Stine's Mostly Ghostly (2008)
R.L. Stine's The Haunting Hour: Don't Think About It (2007)
Sex Ed (2014)
The High and Mighty (1954)
The Magdalene Sisters (2002)
The Perfect Dictatorship (2014)
June 3
Best of Me (2014)
Hector and the Search for Happiness (2014)
June 6
On the Road (2012)
June 7
Words and Pictures (2013)
June 8
Grace of Monaco (2014)
June 9
Free the Nipple (2014)
It's Tough Being Loved by Jerks (2008)
June 11
The Legend (1993)
The Legend 2 (1993)
June 12
Champs (2015)
Life of Crime (2013)
The Cobbler (2014)
June 13
Antarctica: Year on Ice (2013)
Transformers: Age of Extinction (2014)
June 15
Pussy Riot: A Punk Prayer (2013)
June 16
Backstreet Boys: Show 'Em What You're Made Of (2015)
Curious George (2006)
Two Days, One Night (2014)
June 17
Point and Shoot (2014)
June 19
A Most Wanted Man (2014)
June 20
Cake (2014)
June 23
Advantageous (2015)
June 25
Ballet 422 (2014)
June 26:
Katy Perry: The Prismatic World Tour (2015) 
What Happened, Miss Simone? (2015)
June 27
The Reluctant Fundamentalist (2012)