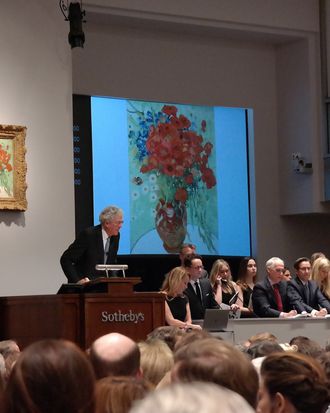 An auction in progress at Sotheby's.
Photo: Anadolu Agency/Getty
This can be quite a frustrating time of year for even an art lover with a private jet. There's so much art to buy at fairs the world over, but how many $25 million works can one purchase before things begin to feel cluttered in all one's various homes? What to do!
One way to free up some wall space and cash for new purchases is to sell some choice works at the evening sales in New York. Both Sotheby's and Christie's offer the chance for megacollectors to off-load parts of their holdings on the block, and once the gavel hits, chances are they just made a nice little profit off whatever sold. Such is the market at the moment.
So who, exactly, is contributing to the projected $2.3 billion that's going to be spent on fancy paintings? Katya Kazakina has a full report at Bloomberg, and some works of grand provenance will be available if you've got some millions burning a hole in your pocket. Steve Cohen, the moneyman who had to cough up $1.8 billion after pleading guilty to insider trading, has put some of his vast collection up for sale, as has real-estate baron Sheldon Solow.
It's Solow who's poised to be the real champ of the week, actually: He's selling a Giacometti at Christie's on Monday that's expected to go for somewhere near $140 million, which would make it the most expensive sculpture ever sold at auction in the history of sculpture.
Sotheby's is handling the sale of works from the Goldwyn family, long an ultrawealthy, super-powerful Hollywood dynasty (see: pioneering mogul Samuel Goldwyn, a.k.a. the "G" in MGM, actor Tony Goldwyn, producer Liz Goldwyn). They happened to have a portrait that Picasso painted of his lover Françoise Gilot, so that's going on the block, probably hammering at a casual $18 million or so.
Sotheby's also has at its disposal a Rothko from 1954, Untitled (Yellow and Blue), once owned by Bunny Mellon. Later, it fell into the hands of Francois Pinault — who, incidentally, owns Christie's. This is just how the art world works, people.
And then there's the Christie's postwar and contemporary evening sale, which features the estate of John Whitehead, the late longtime CEO of Goldman Sachs. The house moved this sale back a week so everyone at the Venice Biennale would make it back in time so they could help spend those billions at the block. The house better pray they don't spend it all at the Frieze preview the day before.