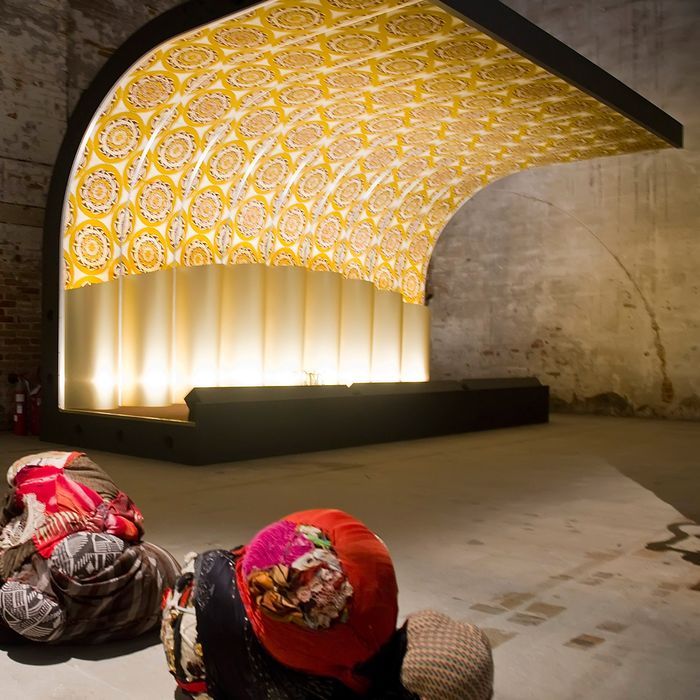 The Corderie space at the Arsenale at the 56 Venice Biennale Art on May 6, 2015 in Venice, Italy.
Photo: Awakening/Getty Images
He had me at Das Kapital. Well, he had my attention at least. One of the first announcements about the 56th Venice Biennale was that curator Okwui Enwezor would organize his exhibition around a live reading of Karl Marx's nearly 150-year-old text of that name. Titled "All the World's Futures," the exhibition looks at the future by way of the past. But Enwezor has filled to the brim the Biennale's two venues, the Giardini Central Pavilion and exhaustingly long Arsenale, with a critique that is itself exhausting.
This post-crisis decade has seen language, the body, and capitalism itself extended and redefined by new technology. While Das Kapital resonates with everyone who has ever studied the humanities, it feels more like a callback to tired undergraduate reading lists than an exploration of ideas relevant to a global future. Why not cite Thomas Piketty, whose massively important Capital in the Twenty-First Century has yet to be digested, or writer and current Greek finance minister Yanis Varoufakis, who is witnessing firsthand the effects of austerity politics?
If youth has any purchase on the future, it's surprising that Enwezor's version of it is refracted through the lens of artists who mostly came of age in the 20th century instead of the 21st. The notable, visible exception is the market darling Oscar Murillo (born 1986), whose smelly black canvas "flags," signaling devices now in bastard territory (2015), drape from the entrance of the Giardini's main building below a neon piece by Glenn Ligon. Of the exhibition's 136 artists, only 12 were born after 1980. Many of the older names — Andreas Gursky, Glenn Ligon, Georg Baselitz, Isaac Julien — had a grasp on our incipient future of economic crisis pre-2008, but have since become padded by a bloated art market in which they're fondly looked after by one percent collectors with the same piles of excess cash Marx bemoaned.
Julien is even directing the Das Kapital Oratorio, which, according to Enwezor, is the linchpin of the Biennale, physically located in the center of the exhibition in a stadiumlike area designed by David Adjaye. "This program, occurring nonstop every day for nearly seven months," writes Enwezor in the Biennale catalogue's introductory text, "will each day commence with a live reading from one of the three volumes of Karl Marx's Das Kapital and gradually expand … devoted to diverse theories and explorations of capital." That Isaac Julien, Marxist orator, also previewed a Venice commission from Rolls Royce motor company during the Biennale is so tone-deaf it's almost comical.
The Rolls Royce work, entitled Stones Against Diamonds (2015), will officially debut at the Swiss megafair Art Basel in June. The proximity of the biennial circuit to the art market is a complication that art loves to occupy but one that bankrolled curators and artists usually love to ignore. As the overflow of the Biennale into marketing efforts demonstrates, much of contemporary art is first and foremost positioned as a luxury asset, a branded commodity fed by inequality, and only secondarily a vehicle for the expression of culture or contemplation of the future.
To give Enwezor some credit, there were some interesting historical discoveries embedded in the exhibition, such as Fabio Mauri (1926–2009). The Italian artist's prints and sculptures apply vehement politics to minimal aesthetic constructions, a precarious balance to strike. His Il Muro Occidentale o del Pianto (The Western Wall or the Wailing Wall) (1993) is a gigantic wall built of suitcases and one of the first works you see walking into the Giardini Central Pavilion. It's a grave analogue for Jerusalem's holy Western Wall, intended to recall the absent bodies of Holocaust victims. There were also some evergreen artists who seem ripe for reconsideration. Take Japanese painter Tetsuya Ishida (1973–2005), whose depictions of the displaced body, such as Recalled (1998), are surreal and keenly felt without straying into cheesy territory.
Then there's land artist Robert Smithson, whose interest in ecology and human interaction with the Earth seems particularly in tune with the recent ramping up of theorization about the Anthropocene, the geological era of human-driven destruction. (Exhibitions at institutions such as Berlin's Haus der Kulturen der Welt and Kassel's Fridericianum have also taken on this theme, or, in book form, see Timothy Morton's Hyperobjects: Philosophy and Ecology After the End of the World.) Similarly, it felt prescient to see Adrian Piper's work Everything, collages and blackboards that repeatedly state "everything will be taken away," a reminder of prodigal pre-crash times that resonated as the canal city filled with an extravagance of comped gallery dinners in 15th-century palazzos.
German artist Isa Genzken's monument mock-ups riffed on the aesthetic archetype of the art institution with humor — one building sprouts antennae like an alien television set, another curiously grows an ear, as if to take in the city's goings-on. It's a rare reflexive caricature of the art world in an otherwise self-serious show.
But by and large, there was little apparent joy in the making of this exhibition, occupied as it was by too many aesthetic one-liners and too few moments of aesthetic respite. Enwezor has a penchant for staging Hollywood-esque battle scenes: The sides of the Arsenale have been covered in war-torn burlap and Pino Pascali's canonlike "Weapons" dotting the Arsenale. There's also Adel Abdessemed, whose ham-fisted Nympheas (Water Lillies) poked long knives into the floor like bouquets — it's hard to imagine why anyone would treat the subject of violence with such decorative flourish. While these flashy installations create a pseudo-political visual stimulus, there's little discourse behind them. It felt like eating at Olive Garden in Venice.
A lack of contemporaneity plagues the show. The only work that appeared to be made in the last few years was Kutluğ Ataman's flashy portrait of Turkish billionaire Sakıp Sabancı (2014), which was commissioned on the tenth anniversary of his death by the Sabancı family. The work comprises approximately 10,000 teeny LCD panels with photographs of people who have somehow come into contact with Sabancı. I fail to understand why a work so specific and limited in scope would be shown in the context of the Biennale (keep it in your foundation, Sabancıs). The only other "updated" work involving technology is Hans Haacke's Besucherprofil (Visitor Profile) installation, originally conducted in the early 1970s. The project tabulates freely given information about exhibition visitors — their age, income bracket, race, whether they're into "women's lib." For "All the World's Futures," the project refreshed by including a table of iPads on which Biennale visitors could donate their data — a cute if ignorant touch, considering digital data collection today is usually done without its sources' express permission.
It didn't have to be like this. Many spectators noted that the floppiness of this Biennale made them appreciate Massimiliano Gioni's comparably less crowded, and perhaps less theoretical, Biennale, "The Encyclopedic Palace." This 2013 exhibition was idiosyncratic in its inclusion of many late and outsider artists, but its formulation still felt inspired and fresh, helped along by its well-written explanatory texts (conspicuously absent in Enwezor's show). Gioni's curation left his selections room to breathe, and allowed works to aesthetically and conceptually develop in proximity.
Consider also the current New Museum Triennial "Surround Audience," curated by Lauren Cornell and artist Ryan Trecartin, which rejected the imperative to make declarative curatorial statements like staging Das Kapital readings but instead opted for an unassuming, tightly curated environment that let its objects speak for themselves. "Surround Audience" also importantly focuses on the ineffability of the body, the blurring division of capitalist labor and creative play, and the way the permanent anxiety of debt permeates lives. What is a discussion about capital and debt, as Enwezor seeks, if it isn't felt?
There was a distinct malaise present during the Venice preview days. Perhaps it was the usual pressures of art tourism in the most picturesquely inconvenient city in the world. But the root cause just might be the painful knowledge that even when one of our industry's best-regarded curators consciously goes about creating an anti-capitalist exhibition outside of the market, its force remains as inescapable as Venice's slowly rising tide.