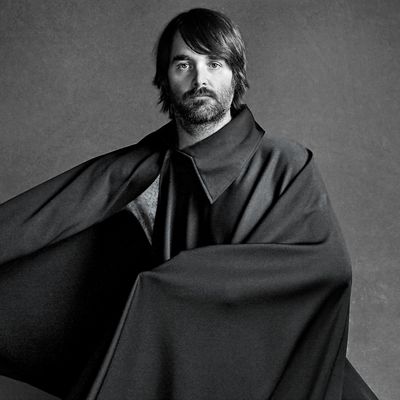 Photo: Robert Trachtenberg; Grooming by Kim Verbeck at The Wall Group; Styling by Ashly Weston; Cape from Palace Costume.
Will Forte has lots on his mind these days, but his top priority today seems to be hugs. No sooner has he speed-parked his silver 2004 Honda Civic near the Venice Beach boardwalk on this sunny Wednesday morning than he's out the door, arms outstretched. We've met before. Seven years ago, when he was best known for blowing himself up as inept special agent MacGruber on Saturday Night Live and long before he created Fox's new hit postapocalyptic sitcom The Last Man on Earth, which he also stars in, he showed up to my birthday party with a friend of a friend. We shared a drunken conversation, which he claims to remember, though I suspect I would've gotten a hug no matter what. Forte's late, and so sorry; a water main broke near where he lives in Santa Monica, and he got stuck behind crews moving heavy machinery. And he's so sorry again, but would I mind terribly if he ran back to his car for a second? "There is a crazy-important phone call, a conference call." He'd put them on hold to give me a proper hello.
Call finished, Forte reemerges, chipper and ready to pick up where he left off, which involves paying the parking meter while cheering himself on ("I selected my spot! There we go!") and ordering takeout breakfast burritos, Forte's favorite food, from a wonderful hole of a place called the Flyin' Jalapeño. "I've always loved burritos, and I've always loved breakfast," Forte says, strolling along the beach, "and when I learned that some smart person had combined the two, it was a real sun-peeking-through-the-clouds moment."
A good 30 minutes pass before Forte lets on that anything of note, let alone monumental, happened during that conference call. "Oh, I guess it's official," he says, casually checking text messages on his phone. Turns out it wasn't just a crazy-important phone call, it was the call with Fox brass concerning the fate of The Last Man on Earth, which at the time we met was eight episodes into its first season. So, what happened? "Oh," Forte says, "they just told us that we were coming back for a second season."
The Last Man on Earth, one of the most popular and best-reviewed new comedies of the 2014–15 season, stars Forte as Phil Miller, a 41-year-old former office temp who believes himself to be the only survivor of a super-virus that has wiped out humanity, even though he's barely fit for survival under regular circumstances. Instead of fixing the plumbing or electricity, Phil travels the U.S. in an RV searching for other survivors before settling in his hometown of Tucson, where he spends his days masturbating, hurling bowling balls into aquariums, and pooping through a hole in a diving board into the swimming pool he's reclaimed as a toilet.
Forte, who developed the idea with directing-producing team Phil Lord and Christopher Miller (the masters of high-concept mass comedy behind The Lego Movie and the 21 Jump Street franchise; "Phil Miller" is an amalgam of their names), says he was curious about what would happen if a worst-case scenario befell "basically a person who would be like any of us." Him, for example: "I wouldn't know how to fix anything. I've had a frickin' broken doorbell for seven years. I'm scared I'll get electrocuted if I try to fix it."
He also wondered how long it would take such a person to lose his mind, turn to religion, or kill himself — the kinds of deep, dark questions rarely asked on network sitcoms. "It seemed like a very cable-y idea to me," says Forte, but Fox, surprisingly, bit (it was a pet project of ousted Fox president Kevin Reilly, who also oversaw the development of Empire before his dismissal). The network, says Forte, "was rightly terrified at first," given that nearly the entire pilot has Phil talking to himself, to God, to a female mannequin he's trying to date, and to a coterie of sports balls he's named and drawn faces on for companionship, before deciding it's time to end it all by driving his truck full-speed into a boulder. And Forte stubbornly refused to compromise the storytelling by resorting to lots of flashbacks or even explaining what caused everyone to die. (Additional survivors, though — such as Kristen Schaal's Carol, whom Phil marries to procreate with but can't stand, and January Jones's Melissa, the "freakin' smokeshow" of a woman who shows up after Phil has married Carol but is totally uninterested in him — were part of Forte's vision all along.)
A first-time showrunner, Forte admits he's made mistakes. Midseason, Last Man lost some viewers and critics when Phil's wacky antics and the introduction of too many new characters threatened to turn the show into a generic suburban comedy, like a Cougar Town: End of Days. "I know my character spins out a little bit," says Forte. "To some people, that seems to be polarizing." So its renewal is both a validation and an opportunity to recalibrate. "It feels so good that we didn't hand them a shit sandwich," he says. "I'm excited." Then, suddenly, he's not: Forte begins fretting about how he'd told Fox executives to "make it quick" so he didn't keep me waiting. "I felt like such a dick saying that, now, after they were giving us this wonderful news," he says. Then it really hits him: "Oh, God, we're going to have to start doing this again. We have to figure out what the hell we do now."
Forte has always been wary of good news. In 2001, while writing for That '70s Show, he rejected his first offer to join the cast of Saturday Night Live. "One of my ultimate dreams was being on that show, and then I had a chance to actually be there, and it terrified me to think that one of my dreams could be gone. I was thinking, If that dream still exists, that's better for me than going for the dream and killing it. And then over the next year I realized, What good is that untarnished dream? You have to friggin' go for it when you have the chance." Luckily, the show approached him again at the end of that season to see if he'd changed his mind.
Even now, at 44, after eight seasons on SNL; the 2010 MacGruber movie that bombed in theaters but developed a cult following; a well-reviewed dramatic turn in Alexander Payne's Nebraska in 2013; and Last Man, Forte still seems a little uncomfortable with success. He dresses like an impoverished college student, today in a flannel shirt and worn brown slacks that don't quite fit him. His face is covered by an unruly beard with sprigs of gray jutting out at all angles. The dented Civic he's driving looks even older than its 11 years; the side panel appears to have been forcibly pried off by someone who gave up halfway through, and there are enough clothes hanging in the back seat to suggest he might be living out of it. "Essentially, I have!" he says when I point this out. Often he'll pack a bag and stay in Chatsworth, a suburb in the San Fernando Valley, where Last Man shoots.
Forte is an obsessively hard worker, which might explain some of his ambivalence; more success just means more sleepless nights. "Nobody worked longer on a sketch than Will Forte," says former SNL writer Simon Rich. "There were always two deadlines: a regular deadline and the Will Forte deadline, which was five or six hours later." Current SNL head writer Colin Jost remembers, "I once spent 16 hours straight working on a sketch with him. It was about a guy in a wheelchair playing musical chairs, and he kept saying he was winning because he had his own chair. We didn't even turn the sketch in! It was like being in a Twilight Zone episode."
He's never been officially diagnosed, but Forte is pretty sure he's mildly OCD. "Mine's the fun amount of OCD," he says. "The party amount! Just enough to give you a little teeny bit of character, but you can still leave the house." However, he says, "it definitely has its bummer aspects. It can wreak havoc on family and other types of relationships."
Forte hasn't taken off for more than two days in a row since last March, all his time consumed by Last Man, from endless rewrites on the pilot to postproduction, which still wasn't over when we spoke. "I'm so brain-dead," he says. Most weeks, he works seven days because he can't edit the show or write new episodes while he's acting in it. He quit smoking years ago but recently bought a pack of cigarettes because he was stressed and didn't have any of his trusty Nicorette gum. "And his poor tooth!" says Schaal. "He never had time to go to the dentist until it was too late. And he was still superhumanly polite to everybody and committed to the shoot, even when he had a throbbing toothache and wasn't sleeping."
He's equally obsessive about playing pranks. Will Arnett recalls hearing that Forte saved up all the clippings from a year's worth of haircuts, made a wig out of them, added a mustache made of hair from "another body part," and gave it to his writing partner, John Solomon, as a gift. Another time, Forte bet Solomon he could listen to just one song — Emerson, Lake & Powell's "Touch and Go" — for a whole year, and did. The Lonely Island's Jorma Taccone had an office across from Forte's at SNL, "so I probably heard that song 300 times," says Taccone. "That sounds funny on paper. It's not actually funny. That's a horrible thing to do to people in an office with you." Three people tell me the legend of how one SNL writer was waiting hours for his takeout food to be delivered on a Tuesday night and, when it came, Forte promptly threw it out the 17th-story window. And Andy Samberg recalls, "More than once I was at the urinal peeing and he walked up behind me and got down low and put his arm up underneath between my legs and put his hand in the path of my pee. When he did it to me the first time, my response was, 'Why?!' "
People seem to like him anyway. During the filming of the MacGruber movie, he became so close to co-star Val Kilmer that Kilmer spent the next couple of months crashing in his guest room while shopping for a house of his own. The pair got so into watching The Amazing Race together that they decided to apply to be on the show as a team. "We checked with our agents to see if they would let us do it," says Forte, "and they were both wildly against it. We almost said, 'Oh, screw them.' But then we both got too busy." Asked about having Forte as a roommate, Kilmer responds, via email: "He is amazingly polite. I'd like to run away with him. But you know, just like on his show, it's always the polite ones that end up [using] their pool as a restroom."
Forte may have worked similar magic on his Last Man co-star January Jones, whom People magazine has reported he's dating. It's the first time the press has linked Forte romantically to anyone. When I tell him the cat is out of the bag, he plays dumb: "What cat and what bag? Don't believe everything you read. I'm going to be very coy with you in this regard — no comments. I like to keep my personal life private." But, he says, laughing, "I did read one of those stories, and it made it seem like just because I don't go out and I'm not the subject of tabloid photography, I've never had a relationship in my life, like if a relationship isn't documented by a picture, it doesn't exist. I don't want to talk about it."
He looks at the time and realizes he's 45 minutes late for the taping of a friend's podcast he said he'd do. "I'm going to be in big trouble!" he says, dashing back to his car. After the podcast, he's supposed to appear on Comedy Central's show @midnight, on which funny people compete to see who can come up with the best quip the fastest. "It's definitely out of my comfort zone," says Forte. "I don't like the pressure to try to tell the best jokes. I'm not good at jokes. I work with weird dialogue better, but not often jokes because they can't all be dick jokes. That's the only thing I do well. I can tell a very interesting dick joke."
Okay, so tell one.
"Oh, no," says Forte. "I need time to craft the perfect dick joke."
*This article appears in the May 4, 2015 issue of New York Magazine.