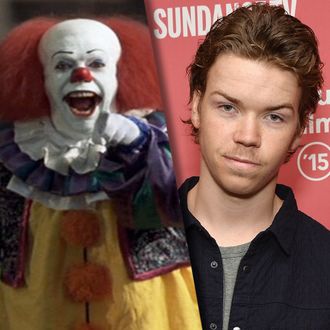 Tim Curry as Pennywise, and Will Poulter as himself.
Photo: Green/Epstein Productions, Getty Images
According to Variety, 22-year-old Brit Will Poulter is in negotiations to play evil clown Pennywise in Cary Fukunaga's two-part film adaptation of Stephen King's It. Pennywise was played by a middle-age Tim Curry in the 1990 It miniseries, but New Line reportedly wanted to go with a younger actor for the film version. Like King's novel, the It reboot will be told in two halves; the first will follow a bunch of Maine schoolchildren tormented by an evil spirit, while the second will pick up 30 years later, when the now-grown heroes are forced to return home. Poulter will appear in both films, which means he is officially Hollywood's newest "It" boy.