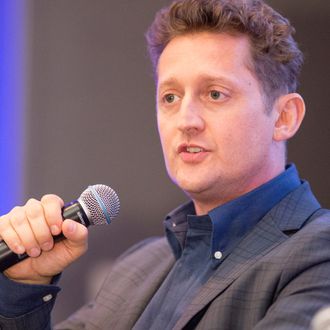 On Friday, Ross Ulbricht was sentenced to life in prison for creating the online drug market Silk Road. The judge's decision — apparently intended to, as the case's prosecutors put it, "send a clear message to anyone tempted to follow his example that the operation of these illegal enterprises comes with severe consequences" — left Alex Winter, the director of a documentary about Ulbricht's activities, "a little shell-shocked." "It was a suffocating experience in many levels. Foremost, the sentence was far beyond what most of us expected, and beyond the expectations of legal experts I had consulted," said Winter, whose Deep Web premieres on Epix on Sunday.
Winter also talked about actually seeing his subject for the first time:
I have never met Ross, the movie is largely about how little anyone concretely knows about him, his full level of guilt and his true motives. He made a very heartfelt and powerful speech, apologizing for his admittedly criminal and destructive actions, and in the end only took umbrage at being accused by the prosecution of being primarily motivated by greed and ego. He said that for the record, he wanted it to be understood that he created the site as a tool to aid privacy and anonymity. Whether you agree or disagree or utterly dismiss his claims, it was very emotional and powerful to hear.
Winter went on to say that the punishment seemed particularly harsh because the 31-year-old "was not charged for violent offenses." Echoing that sentiment was Jared Leto, who was spotted in the Manhattan court's overflow room during Ulbricht's sentencing:
It's not clear why Leto chose to attend the proceedings, but it's probably worth noting that Joshua Bearman's lengthy Wired story about Silk Road was just optioned by Fox.