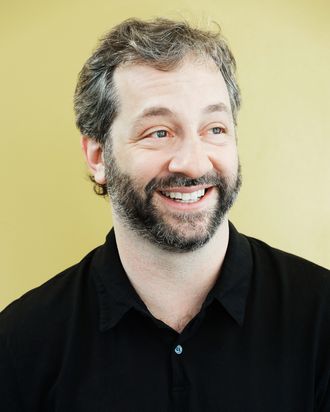 Photo: Michael Kovac/Getty Images
Judd Apatow has been interviewing comedians since his days as a Syosset High School sophomore, when he had his own radio show and got to sit down with budding legends like Jerry Seinfeld, Jay Leno, and Sandra Bernhard. Sick in the Head, out today, is a collection of the interviews he's been doing since his days as an insecure high school student to his present as a (probably still insecure) comedy mogul. Some interviews were previously published, but there's a little something for everyone: an oral history of Freaks and Geeks, anecdotes of how he chickened out during an AFI tribute to Mel Brooks, and deep-dives with comedy greats.
Running throughout each conversation is Apatow's own understanding of comedy as a way to inhabit the world, work things out, and prove oneself. Apatow doesn't have the happy-go-lucky sensibility of Jimmy Fallon or the meditative Zen of Jerry Seinfeld, which is perhaps what makes him an ideal avatar: He's a neurotic worrier who self-flagellates even when he shouldn't, someone still looking for his best self. Below are some of the best anecdotes from the book, from Amy Schumer telling the story of the guy who inspired the big-penis-as-unicorn joke to Stephen Colbert on why he quit The Colbert Report. But it should be noted that the best parts, the ruminations into comedic philosophies and the mechanics of a joke, are the ones that don't lend themselves to an easy excerpt.
A hockey player that Amy Schumer dated inspired the joke where she compares a man with a big penis to a unicorn.
In the first season of Inside Amy Schumer, Amy Schumer tells a joke where she compares meeting a man with a big penis to seeing a unicorn for the first time, where you would run the other way if you saw one in real life, because you realize "it's actually a horse with a weapon on its head." The real-life inspiration came from a hockey player she went out on a date with at her sister's behest, who ended up having a massive member. She tells Apatow:
At one point, I say to him: "Are you serious?" He's like, "No, it's usually —" And I'm like, whatever. In my twenties, I would have given it the old college try, but I'm in my thirties now and I was just like, I have Olive Garden leftovers in the fridge, see you later. It's not happening. I'm not going to walk around New York with a gaping vagina because I had sex with you once.
The blow-job scene in Louie made Chris Rock decide to step his game up.
When Chris Rock watched the episode where Melissa Leo gives Louie a blow job in the car before telling him, "Now you're going to eat my pussy," it "blew" his mind. "I watched that episode and it was like the first time I heard NWA. It was like, Oh shit, you can do this?" says Rock. "And I thought, So why am I so scared? Why do I give a fuck about testing? All the nonsense I spent so long giving a shit about. And then there was the fact Louis C.K. is a guy who literally used to — you know, I hired him on my writing staff and here he is, doing this. It was like, Oh shit. Okay, whatever I do next has to be this honest." (Next, he made Top Five.)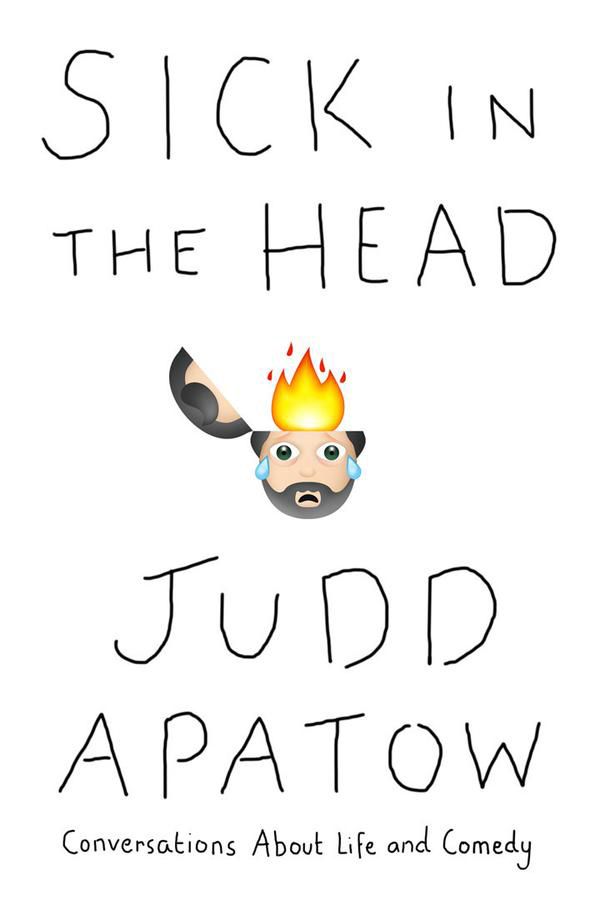 Bill Murray once wrestled a stranger to the ground and bit his nose.
Apatow did an interview with Harold Ramis in 2005 at the Austin Film Festival, where they talked about Ramis's first breakout hit with Animal House. They talked, too, about the comedic genius of Bill Murray, who was also hard to work with (although not seemingly as hard as Chevy Chase). Ramis told one story where a stranger went up to Bill Murray on the street and told him, "Bill, love you on Saturday Night!" "[Murray] says, 'You motherfucker, I'm going to bite your nose!' He wrestles him to the ground — total stranger — and bites his nose."
Apatow was cool with his wife's sex scenes except for the one with Owen Wilson.
While Apatow is talking to Jim Carrey, he notes that Carrey had a sex scene with his wife, Leslie Mann, in I Love You Phillip Morris. Carrey jokes, "We got at it like bandits. Like bandits! My God, my forehead was bleeding from the headboard." Apatow said that he doesn't mind "when it's friends," but that "the only person that bothered him" was Owen Wilson. Why? "I just wanted to be apologized to before you do it — like, 'Sorry, Judd, it's the job.' But Owen was just like, 'Hi, Judd.' Then just did it." The bastard!
Lena Dunham wants to work on a novel.
Lena Dunham has a best-selling collection of essays and a hit HBO show, but she wants to do more movies, and she also wants to write a novel. "That's something I have always wanted to do," but she realizes that it might not come to fruition. "It's funny when you want to dabble in new things … and you get this realization: Oh, there are people who have spent their whole lives figuring out how to do this, and the thing I make will never be equivalent to what they're doing."
40-Year-Old Virgin was initially shut down after two days because Paul Rudd was too fat and Steve Carell looked "like a serial killer."
Two days into shooting The 40-Year-Old Virgin, the studio shut them down because they thought Steve Carell looked like a "serial killer," that Paul Rudd was fat, and that Apatow was "lighting it like an indie." How did the project get back on track? His wife, Leslie Mann, said, "Paul went on a diet. He literally stopped eating." As for Carell, they didn't change the way he looked, but he decided "the character would be a little more Buster Keaton–esque. He was low energy and everyone else was spinning around him."
Louis C.K. learned that Lorne Michaels is always right the hard way.
The second time Louis C.K. hosted SNL in March of 2014, he did an eight-minute monologue that killed, but he originally wanted it to be 12 minutes long. After Lorne Michaels saw it, he told him he would let Louis do seven minutes, because it could be tightened up. Louis said, "Well, I don't know. I thought it was pretty good. And fuck you." Then he watches a playback of his rehearsal and realizes that Lorne Michaels is right: There's too much dead air, a lot of stopping and starting, and a bad joke about farting on babies. Louis got Michael Che to help him cut the material and turn it into what it was:
Apatow faked being out of town so he could get a handwritten letter from Steven Spielberg.
Apatow's need for approval is so great that once he got a call from Steven Spielberg, who was trying to tell him how much he liked Knocked Up. He wanted a letter, though — just like the one that Paul Feig got when they made Freaks and Geeks. So instead of returning the call, he told his assistant, "Can you say Judd's out of town and is it possible that he could write a note just so I can have the letter?" What he got was the "dream letter," but afterwards he thought, "How many of these do I need to feel good about myself?"
Mel Brooks thinks political correctness is "jejune."
A fan at Sirius Radio's Town Hall asked Mel Brooks (after Apatow had interviewed him) what he thought about today's standards of political correctness. "I think that word in and of itself is pale and kind of weak. And jejune," Brooks replied. "It's just timid and I don't think anybody really covers racial hatred the way it should be covered." Brooks then went on to talk about how he got so many letters from people who asked him how he could use the "n-word" so often. When he was writing the script with Richard Pryor ("probably the best stand-up comic that ever lived"), he got worried about whether he could do all of the things they wanted to do in the film. John Calley, the head of production for the WB at the time, told him, "If you're going to go up to the bell, ring it."
Stephen Colbert wasn't burned out, he just didn't respect punditry anymore.
It wasn't necessarily that Stephen Colbert got burned out. "I like the grind," he tells Apatow. The reason why he decided to retire his conservative pundit was because he felt done with the model. "I play a character on my show, and he's modeled on punditry, and I no longer respect my model. That's my problem," said Colbert. "Regardless of whether I was moving on to something else after this show, I don't know if I could have done it much longer, because you have to be invested in your model. And I really am not. I can't watch that stuff anymore." Good thing he quit before the elections.
Colbert refused to look at George W. Bush at the White House Correspondents' Dinner because then he would be "a guy worried about his bit."
Before Stephen Colbert's epic in-character roast of President George W. Bush in 2006 at the White House Correspondents' Dinner, he sat next to the legendary journalist Helen Thomas, who had a lot of questions for him, like, "So, are you going to do all of your jokes?" Colbert realizes he can do it all and not be "cowed" because he'll be in character. When Thomas noted that President Bush was also going over his cards, Colbert replied, "Oh, Helen, I can't look at him right now … Because he can't be a person. He has to be his ideas." He had to be his policies, not "a guy worried about his bit at a banquet."
Colbert and Apatow on trying to get internships at Letterman.
While Judd Apatow was desperate to get an internship at Letterman, Colbert was offered one without even trying. Apatow said he wrote a letter to "every single staff member" asking for an internship. Finally someone called him, and Apatow flew to New York with his own money only for the woman to tell him the job had been filled. He went back home and wrote "the meanest letter, using words that could end my career right now." Meanwhile, Colbert was offered an internship when his girlfriend was interviewing for one at Letterman. He went in with her, and they asked him if he wanted to chat. They had "a nice conversation" and offered him the internship instead of her. He turned it down, because he thought, "What do you mean I move to New York and you don't pay me? What do I do, live in a trash barrel?"