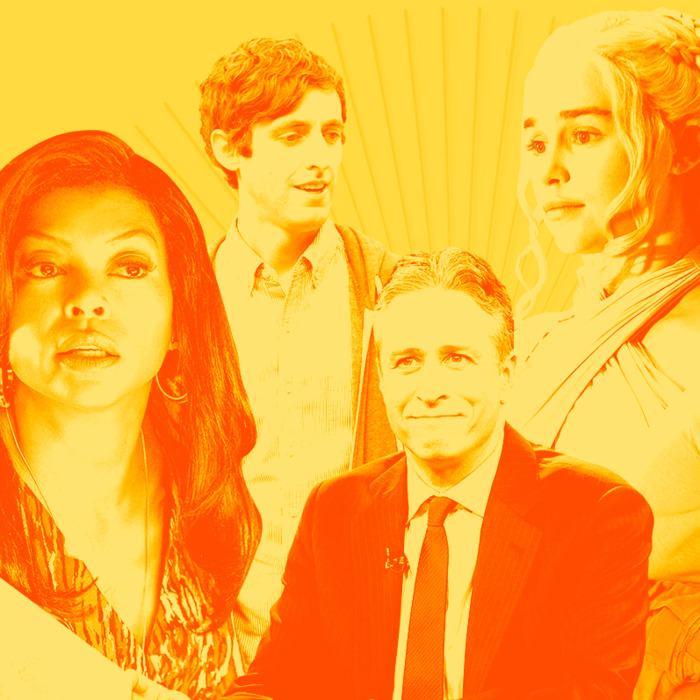 Photo: Maya Robinson and Photos by FOX, HBO and Comedy Central


Announcing...
The Culturati Caucus
Photo-illustrations by
Maya Robinson
All this week, we're presenting the Vulture TV Awards, honoring the best in television from the past year. (Browse through our entries by Mike Schur, Mad Men's casting directors, Kenya Barris, and more.) Over the past month, we polled 135 showrunners, executives, writers, actors, actresses, and a host of other bigwigs to get their take on the best shows, actors, and characters on TV this past season.
The results confirmed that the people who make TV are just as passionate — and opinionated — watchers as we are.
Reporting by Stephanie Eckardt, Diane Gordon, Marcus Jones, Claire Landsbaum, Jenni Miller, Jenny Peters, Trupti Rami, Vicki Salemi, Renata Sellitti, Valentina Valentini, and Kat Ward.
Best Show
Game of Thrones
15%
"Having to wait for the next episode is ruining my life. I'm stuck and I want to binge it! But I can never wait long enough to get four episodes together and then just watch it then. I'm absolutely obsessed with this show."
Jonathan Krisel, writer
9.4%
Silicon Valley
"It's such a plot-based show, and they do it so well. I just want to be in their room to see how they break their stories."
Matt Warburton, writer
5.6%
Veep
"It's so smart and crafted in such an awesome way. It's cool to watch a show where romance isn't part of the storytelling at all. Instead, it's all kinds of betrayals and work endeavors. I'm really impressed by it."
Tracey Wigfield, writer
Best Comedy
21.9%
Silicon Valley
"They somehow have done 20-some episodes without having a single romantic story line, yet the story lines never feel stale, even though the area they're covering — the launching of a business — is so specific."
David Stassen, writer-producer
18.8%
Veep
"It makes a world that I'm very interested in — politics — so funny. And it's got such great characters. It works on every level."
Ike Barinholtz, actor-writer
12.5%
The Last Man on Earth
"It's unique, and there's all this unpredictable stuff happening all the time. The scenario is one that everyone wonders about — if they were the last person on Earth — but no one would be as outrageous as [Phil Miller]."
Ice-T, actor
Best Drama
14.3%
Game of Thrones
"I'm continually flabbergasted by how beautiful the words are, how smart, how seamless, how deep and specific each character is."
Ilene Chaiken, producer
10.7%
The Americans
"It's an incredible show. It's also heavily underrated and underwatched."
Jay Duplass, actor-director
7.1%
Better Call Saul
"Bob Odenkirk, especially, I love him. The show makes something really great out of having somebody with an out-of-control sense of humor doing a dramatic part. The whole thing is fascinating."
Bradley Whitford, actor
Best Drama Performer, Male
10.5%
Jon Hamm,

Mad Men
"He plays everything with nuance and real subtlety, and I think sometimes that doesn't go as noticed."
Peter Nowalk, writer-producer
Matthew Rhys,

The Americans
7%
(tie)
"What he does on the show is pretty, pretty amazing. There's such depth."
Joelle Carter, actress
Peter Dinklage,

Game of Thrones
"He's just so tuned in — every single episode."
Ike Barinholtz, actor-writer
Best Drama Performer, Female
9.6%
Taraji P. Henson,
Empire
"There are so many layers to her performance, such vulnerability and such strength. And the moment she appears, she just commands the screen — every time."
Adam Horowitz and Edward Kitsis, producers
Elisabeth Moss,

Mad Men
7.7%
(tie)
"She's got such prowess. I'm so sad to see Peggy go."
Tracey Wigfield, writer
Viola Davis,

How to Get Away With Murder
"It was about time that she got a chance to shine in a drama."
Vivica A. Fox, actress
Best Comedy Performer, Male
Will Forte,

The Last Man on Earth
11.4%
"Phil Miller does despicable things, yet we love him 'cause he's so magnetic and dysfunctional and brilliant."
Adam F. Goldberg, writer-producer
Louis C.K.,

Louie
11.4%
"My mind immediately went to Louis C.K. He's a phenomenal dramatic actor who uses those skills in a comedy."
Abigail Spencer, actress
Tony Hale,

Veep
11.4%
"He's always unexpected. You think he's going to do one thing and then he tricks you, and you're going, 'Oh, you got me again!'"
Erica Tazel, actress
Best Comedy Performer, Female
26%
Amy Schumer
"She pushes boundaries so well, and does it without losing the sense of humor."
Cecily Strong, actress-writer
21.7%
Julia Louis-Dreyfus
"She's just the best. She's so funny. She's such a good actress, and with amazing comic timing."
Michael Showalter, actor-writer
6.5%
Kristen Schaal
"It's hard to put anyone above Julia Louis-Dreyfus, but she's won enough, so, ladies and gentlemen ... Kristen Schaal."
Andy Bobrow, writer-producer
Best Villain
12.7%
Cersei Lannister,
Game of Thrones
"I love Cersei, and Lena Headey is able to create complex emotions for a role that could be cartoonish."
Denis O'Hare, actor
Ramsay Bolton,

Game of Thrones
9.1%
"He's such a sociopath. He honestly has scenes where you're kind of like — you almost feel bad for him despite the fact he's so evil."
Brett Haley, writer-director
Frank Underwood,

House of Cards
7.3%
"Well, because he's such a villain. He holds the ultimate power, so when you abuse that power, you're the ultimate villain."
Portia de Rossi, actress
Most Important Person in Television
6.9%
Jon Stewart
"We don't want to say good-bye, but we know we have to. He's incredible."
Warren Littlefield, former NBC president
5.5%
Shonda Rhimes
"She helped launch the quality revolution on network television."
Dan Berendsen, producer
4.1%
Amy Schumer
"She's pushing boundaries, and when they're pushed, the effects of that work always trickles down to everybody else."
Chris Nee, writer
Most Quotable Dialogue
18.8%
Veep
"Honestly, everything about this show is just pretty great, so that includes the dialogue."
Danny Strong, writer-producer
8.3%
Unbreakable Kimmy Schmidt
"It's so precious! I was a huge 30 Rock fan, and like that show, Kimmy Schmidt [goes] so fast, and if you're not listening carefully you miss half of the dialogue, but if you're listening carefully you're laughing hilariously."
Alysia Reiner, actress-producer
6.3%
Game of Thrones
"Even if you can't follow the stories and don't know what the characters' names are, you can't not watch scenes from beginning to end."
Spike Feresten, writer-host
Best New Show
15.4%
The Last Man on Earth
"I became deeply obsessed. It's really, really good."
Mark Duplass, writer-actor
Empire
11.5%
"There are 80 twists in each episode, and they keep managing to find a way to top themselves. I have no idea how they're going to keep it up, but I'll be watching to find out."
Jillian Bell, actress
How to Get Away With Murder
7.6%
"There's more to the show than just this, but the way Viola Davis is so commanding and exudes so much power is magnetic."
Elvis Nolasco, actor