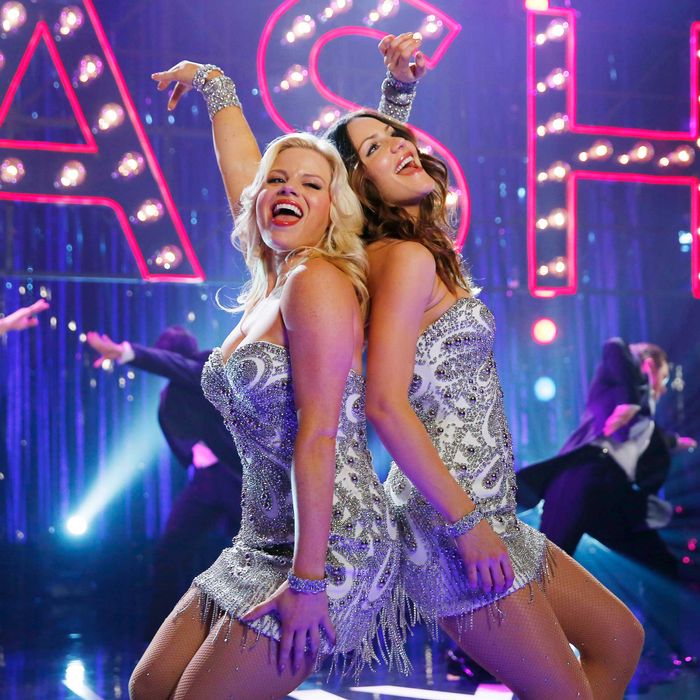 Smash.
Photo: NBC/Getty Images
Bombshell is no longer in tech. Last night, following thousands of fans' cries and over $300,000 in Kickstarter funds, the cast of NBC's Smash was reunited for a one-night-only performance of the show's Marilyn Monroe musical. There were big laughs, standing ovations, and, thankfully, not a single blonde wig. While there was much about the spectacle to enjoy, there were a few disappointments. Anjelica Huston and Jack Davenport were noticeably absent. (No one could throw a prop martini or wear a black V-neck tee for their sake?) And, alas, no word was given on whether Bombshell would hit the road or perhaps be performed in another one-night-only venue (we could totally see this at the Hollywood Bowl), but until such announcement is made, we'll be patiently waiting to be your star. Here are the five moments that still have us doing the 20th Century Fox Mambo.
Debra Messing and Christian Borle's introduction.
"Maybe if NBC had used Kickstarter instead of sponsors, we'd still be on the air right now," joked Messing. The opening monologue she performed with Borle felt like a homecoming of sorts, and as the two listed all the ways the show was made possible, we were nostalgic for one of the best parts of Smash — the fun, easy banter between these two. When Messing asked for a round of applause for Borle's recent Tony Award win, he responded to the cheers, "Well, it doesn't suck."
Christian dancing with a towel.
Borle continued his tour de charm with a big performance of "Don't Say Yes Until I Finish Talking" while surrounded by chorus boys in boxers. As he expertly shook a bath towel, shimmied on a massage table, and deftly sang with a cigar in his mouth, we were reminded of his absolute star power. (Full disclosure: We were also a bit upset that Borle wasn't rocking the boxers himself.)
Jeremy Jordan opening up the second act.
This man is a legitimate, capital-P Presence. The moment he walked out, you could feel everyone in the audience slide forward in their seats. Jordan arguably worked the stage harder than every other cast member with his powerful pacing and house-shaking rendition of "Cut, Print … Moving On." This number memorably kicked off the revamped second season of Smash with a renewed energy — and that's exactly what Jordan brought to the stage after intermission.
Ann Harada doing her best Marilyn.
Perhaps the biggest laughs of the night came when Ann Harada stepped into her role as the lovably frazzled stage manager Linda. By taking on the racy "I Never Met a Wolf Who Didn't Love to Howl," she got to display her comedy chops that were often underserved on the show.
Megan Hilty doing pretty much anything.
What can't this woman do? A true Broadway diva, she got the crowd to their feet almost every time she sauntered onto the stage. She slayed all of her numbers, but especially two of the biggest crowd-pleasers: The choreography for "The National Pastime" was much more scandalous than what ran on network TV, and the bacchanalia of "Let's Be Bad" was even more raucous with a live audience to play off. Please, Harvey, bring this woman back to Broadway.