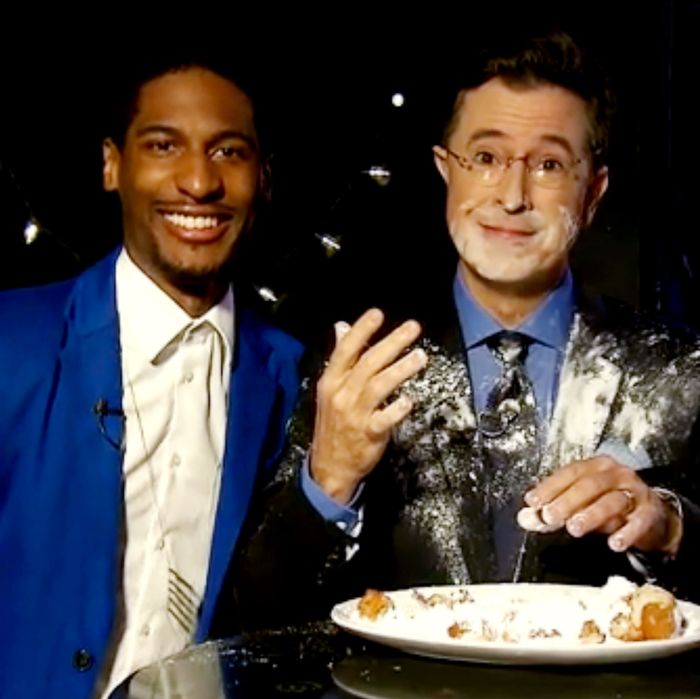 It's happening so fast! One minute Stephen Colbert has a beard and looks like a rumpled college professor on an extended sabbatical, the next he's clean-shaven and announcing the new bandleader for The Late Show. Jon Batiste, the slick 28-year-old jazz man from Louisiana, will be this generation's Paul Shaffer, but with hair and more sensible fashion choices. Here are five things to know about him.
1. He was born in the Crescent City into a big musical family.
The Batistes have a long musical history in New Orleans. At one point, a popular arts academy in the city bore the family's name. Many of Jon's uncles and cousins are also musicians, including jazz composer Paul Batiste, who in 2013 famously brought a hefty lawsuit against Rick Ross and T-Pain for illegally sampling his music. So, it only makes sense that Jon got his first taste of music as a member of the Batiste Brothers Band, an amorphous family jam band that's still popular among locals.
2. He studied at Juilliard with the other new members of The Late Show band.
In 2004, he moved to New York to attend Juilliard where he studied jazz and classical piano. There he met the members of his future modern jazz ensemble, the Stay Human Band, who are known for their raucous live shows with lots of call-and-response and audience participation. The band, which includes a saxophonist, a percussionist, and a tubist, will back Batiste on The Late Show.
3. Even though he's young, he's a very well-respected musician.
By 25 Batiste had already performed in over 40 countries, in Carnegie Hall, at Lincoln Center, and at the Kennedy Center. Some of his high-profile collaborators include Lenny Kravitz, Jimmy Buffett, Harry Connick Jr., Cassandra Wilson, and Wynton Marsalis, whose brother Jason was also featured on Jon's debut album, Times in New Orleans, which was recorded when Jon was only 17. In 2010 he toured with Prince during his America tour. He's a Movado Future Legend and a Steinway Performing Artist and associate artistic director of the National Jazz Museum in Harlem.
4. This isn't his first taste of showbiz.
Even though he did not study acting in school, Batiste already has film and television credits. He played musician T. K. Hazelton in Spike Lee's Red Hook Summer, and is also featured in seasons three and four of HBO's Treme, playing himself. (The lead character of that show, Antoine Batiste, played by Wendell Pierce, is based on one of Batiste's extended family members.)
5. He plays the harmonaboard.
Which is basically a fancy name for the melodica, but he somehow manages to make that look cool.