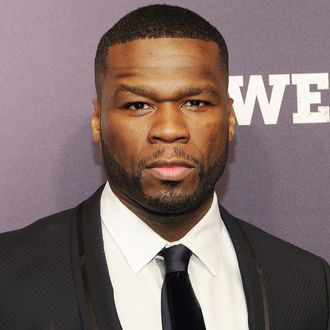 50 Cent, beef manufacturer.
Photo: Daniel Zuchnik/Getty Images
Just like he sold albums by manufacturing a beef with Kanye West, 50 Cent continues to promote his Starz show Power by ragging on Empire. Recently on Instagram he wrote, "EMPIRE is some sh!t you should get for free. Now that power is worth paying for, STARZ premium cable." (The remark comes after a long line of passive-aggressive disses against the show, which you can see here, here, here, here, and here.) He kept it up last week at a screening of the premiere for the new season of Power, too. "Comparing the two is comparing two hit television shows at this point, but of course I'm first," the rapper told Vulture on the red carpet. "I'm first, and my show is better. I'll make Terrence Howard tell you I'm first and my show is better."
When it got to the music of the show, he was complimentary to the Empire boys Jussie Smollett and Bryshere "Yazz" Gray at first, saying their Billboard Awards performance was "cool." But he also took the opportunity to remind everyone that he was still better. "Ain't nobody on Empire cast better than me … What's that boy's name again, that be doing the singing on Empire?" Jussie Smollett, we reply. "That one, and who else? What's the other one?" Yazz. "Man I don't even know him! Don't nobody know him!" Sorry, boys, we guess you'll just have to take your No. 1 album elsewhere.