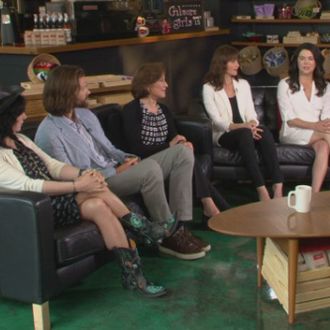 Before the cast of Gilmore Girls reunited at the ATX Television Festival in Austin last weekend, a few of the show's favorite characters — played by Lauren Graham, Alexis Bledel, Kelly Bishop, Jared Padalecki, and Scott Patterson — as well as the creator, Amy Sherman-Palladino — sat down with the Today show for an hour-long interview. In it, they discussed everything from the show's mile-a-minute dialogue to similarities to their characters, and many other little fun facts. (Though, sadly, they're still tight-lipped on plans for a Gilmore Girls revival.) Here are six things we learned.
1. Lauren Graham and Alexis Bledel actually ate the food on the show.
Lorelai and Rory were known for their bad eating habits — Chinese takeout was a food group in their minds — and, unlike many health-conscious actors, Graham and Bledel weren't afraid to indulge in their characters' guilty pleasures. "It really bothers me when actors don't eat the food that's in the scene," Bledel explained. But after several takes and upset stomachs, Graham says they eventually relied on spit buckets to get them through it.
2. Amy Sherman-Palladino didn't have a pilot written before the show got picked up.
After having several of her other pitches rejected, Sherman-Palladino says the former WB network green-lit Gilmore Girls when she casually mentioned the idea. "I sold it off of a line, 'It's [a] mother and daughter and they're more like friends than mother and daughter.' And they all perked up and literally said, 'Great, we'll buy that,'" she says. "I walked out of there and turned to my manager at the time and said, 'That's all I got. I don't know what the show is.'" She later came up with the idea to set the show at an inn in Connecticut after a vacation there with her husband.
3. Scott Patterson based Luke Danes on his father.
When asked about the similarities between himself and his character Luke, Patterson revealed to Sherman-Palladino that he based Luke off his own father. "It was a chance to play my father as if he weren't the super-educated, suave, sophisticated man that he was — who hadn't left when I needed him the most, creating this giant void in my life," he says, getting choked up. That portrayal, he says, allowed him to rekindle his real-life relationship with his father before his passing.
4. Lauren Graham and Alexis Bledel didn't meet until their first scene together.
Because Bledel, a new actress at the time, was cast as Rory Gilmore six months before the show got picked up, Graham says the two never got the chance to do a chemistry read. Instead, they met their first day on set. In the beginning, Graham says she remembers having to grab Bledel by the arm to help her learn how to play to the cameras. "People are like, 'You have such great chemistry.' And I'm like, 'I'm mauling her. That's why,'" Graham joked.
5. They each took away some goodies from the set.
Patterson, of course, couldn't leave without a few of Luke's infamous hats. But he wasn't the only one with a Gilmore Girls souvenir. "I took a Prada coat that they're probably still missing in inventory," Graham admitted. She says she was also given Lorelai's three-monkey lamp because they apparently "knew she'd want it." (Sadly, she didn't, and it's in her garage.) Padalecki says he managed to score a first-edition copy of From Russia, With Love from the set. "I probably stole something valuable," he joked. Naturally, Sherman-Palladino has the Stars Hollow sign.
6. Alexis Bledel is #TeamNoOne.
While most fans tend to side with one of Rory's exes, Dean, Jess, or Logan, Bledel has a different theory for whom Rory would be with now. "I think she'd be seeing someone new, or she'd be single and focused on her career," she admitted. "I don't think she'd be married." "That's the best answer ever," Graham added. (Though she says she's #TeamLogan.)