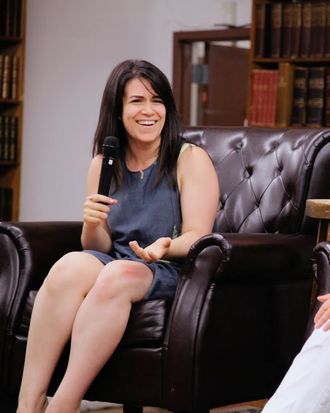 Color in Abbi's new book!
Photo: Michael Chin
On Tuesday night, Abbi Jacobson confirmed what most of us already suspected. "I think the pegging episode is the best episode we've ever done," Jacobson said to a packed room at the Strand bookstore in New York, where she was there to promote her coloring book, Color This Book: New York. For those who haven't caught up, Jacobson's character Abbi finally gets a chance to go on a "non-date hangout" with Jeremy, her cider-brewing next-door neighbor. The dream date ends with Abbi pegging her crush with a strap-on custom-made dildo (which she later melts in the dishwasher, much to Jeremy's dismay).
What might seem like a carefully calculated joke came up in the Broad City writers' room naturally. "I'm going to speak about myself in the third person because I like to separate myself from my character," Jacobson started off. "We wanted 'Abbi' to finally hook up with Jeremy because we'd been showing this pining forever and we were like, Why save this? We knew they were going to get together and then [pegging] came up in the room and once it did, we were just all like, Yeah."
But Jacobson was careful to point out that she and co-creator Glazer didn't want the joke to be about the fact that Jeremy liked to get pegged. "It was very delicate because no one ever pitched it as it's the joke that he's into pegging," she said. "We were very careful because we didn't want it to be misconstrued that that preference is looked down on. It was more in the aftermath that he's so particular about his [dildo]." Aren't we all?