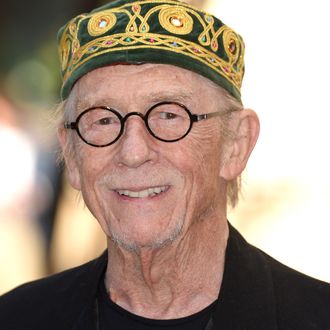 John Hurt.
Photo: Karwai Tang/Getty Images
Seventy-five-year-old veteran actor John Hurt has been diagnosed with pancreatic cancer. "I am undergoing treatment and am more than optimistic about a satisfactory outcome, as indeed is the medical team," Hurt said in a statement. "I am continuing to focus on my professional commitments and will shortly be recording Jeffrey Bernard Is Unwell (one of life's small ironies!) for BBC Radio 4."
Hurt hasn't slowed down at all in his 70s: He was in Bong Joon-ho's dystopic thriller Snowpiercer, and most recently was filming The History of Love as well as the new Tarzan film. You'll also see him on (British) TV in the six-part crime series The Last Panthers alongside Samantha Morton. Unfortunately, this probably means another hiccup for Terry Gilliam's white whale project, The Man Who Killed Don Quixote, in which Hurt is set to play the Man from La Mancha. We wish you a speedy recovery, Sir John.