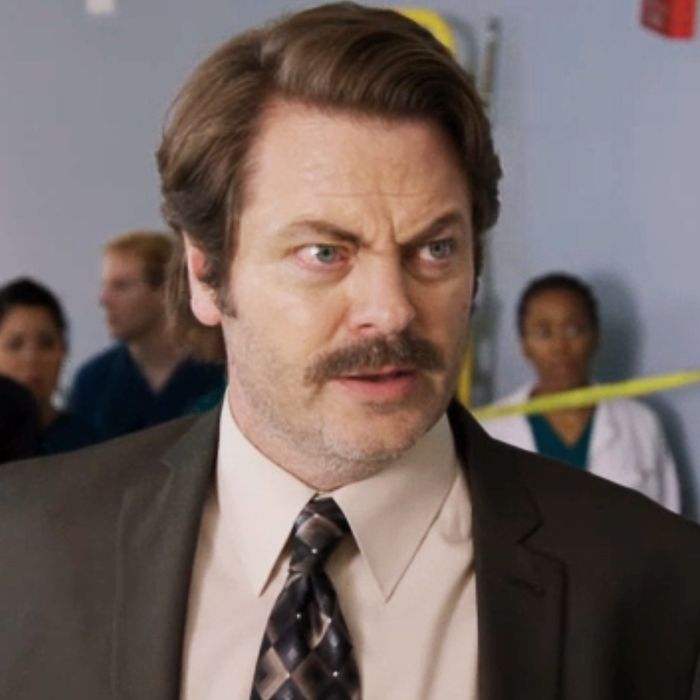 Nick Offerman in the May 29 episode of Childrens Hospital, "Me, Owen."
Photo: Adult Swim
Childrens Hospital is shot on location deep in the San Fernando Valley at one of those recently-was-something-else kind of places that are endemic to this part of the Valley. There's a big sign in the front that says Precision Dynamics. Rob Corddry, creator and star of CH, isn't really sure what used to happen here. "They made really precise dynamics?" he shrugs. "Love to know." (Evidently, they manufactured medical bracelets, the kind you snip off with scissors.) In the lobby, there's a reception desk with ferns and benches across from a wall with a corporate timeline on it. A big blue banner reads: "Childrens Hospital Celebrates 50 Years of Healing" above a collage of mothers and babies and doctors.
This place looks bona fide, until you notice that the picture of the hospital's founding father, a close up on a dark-suited executive sitting in a big leather chair, is a sepia-toned Jon Hamm (the actor made cameos in 2010 and 2013).
"We can't afford to build an actual full set," says executive producer David Wain*. "So we have this." The Adult Swim show and former web series — starring a murderer's row of funny people: Lake Bell, Megan Mullally, Henry Winkler, Ken Marino, Rob Huebel, and Nick Offerman, among others — parodies medical dramas and was previously shot at actual hospitals. But Wain says the two hospitals they used have both been torn down. Corddry thinks this is better than the real thing, anyway. "Our architects and designers just went crazy this season," he says. There's something strange and unfinished about this particular set. The place just feels funny — like it's dressed up for a gag costume party and is constantly on the verge of laughing at itself for being so hospital-y. "It's our best set by far," Wain admits.
After walking past a small anteroom just off the lobby where Rob Huebel appears to be shooting a Planet of the Apes parody semi-naked, there's a huge, one-story plywood ramp where set pieces can be wheeled up or down. At the bottom of the ramp, there are two trainers from Steve Martin's (not that Steve Martin) Working Wildlife. They look like wildlife bouncers, and they're minding a midsize baboon perched on a metal chair, who appears in the episode, "Me, Owen," they're shooting. "It's actually a Hamadryas Olive baboon," the female trainer explains. The baboon is a female named Chloe, and the female trainer discreetly holding Chloe's leash explains that she doesn't take selfies with anybody when she's working. I avoid eye contact instinctively.
There is a make-it-up-as-you-go-along quality to the hallucinogenic absurdity of Childrens Hospital. Maybe because, in seasons past, they were literally making it up as it went along. The three principals would take a West Coast train trip before each season to write while click- clacking down the tracks, but it seemed like much of the writing was still happening in season. "This year we just went to a resort in Palos Verdes for a few days," Stern says. "It was a lot easier."
Ahead, seven things we learned from spending time on the set of last Friday's episode, "Me, Owen."
1. The fastest directors carry a stopwatch at all times.
Ken Marino, who portrays Dr. Glenn Richie on the show, is directing this episode. He's wearing a Dogfish Head Craft Brewed Ales baseball hat and it's cocked to the side at the same jaunty angle at which Dr. Richie wears his yarmulke. He's a very encouraging director, often adding token directorly advice right before yelling action, stuff like, "Hey, I don't want any acting on this take, only reacting." He's also known for his speed. "Ken Marino is one of the fastest directors we've ever worked with," Corddry says. "He has a stopwatch on set — nobody is quite sure what he's timing. He sets it at ten-minute intervals. I asked him the other day and he said, 'I'm just timing myself.'"
Methodolgy aside (for now), speed is always encouraged on Childrens Hospital. What started out as a sort of in-between project for Corddry still operates at a breakneck pace on a shoestring budget. They're shooting 14 episodes in 28 days. Corddry bet Marino a deluxe director's chair that he won't be able to stick to a ten hour a day average. "But he's doing it," he says. "Right now he has 45 rollover minutes."
2. There is an official Childrens Hospital universe with actual laws and continuity.
I ask Corddry and Wain, "Do these characters ever really change over time? Do they even have inner lives?"
Wain: We just add like weird facts about them as time goes by.

Corddry: The characters can change episode to episode.

Wain: Jokes add things and some things stick. Like we made a joke that Malin Akerman's character is a man.

Corddry: That did seem to stick. For convenience's sake, we do purposefully keep them ambiguous.

Wain: But their personalities do shine through.

Corddry: It's kind of arbitrary at times. Like which is more important, serving this particular joke or this tiny bit of continuity we set up. I was joking the other day that it would be fun to sort of create a character study for each character and find out what all their traits are.

Wain: In the web series, it was a total one-off non sequitur joke — like "oh, by the way, this is always Brazil." And we just decided to stick with that. And we've never betrayed that, though, once in the entire six seasons.
3. Never laugh at the baboon's jokes.
When Marino shouts, "Let's bring in the monkey!" Corddry finally looks up from his Sudoku iPhone game. "Don't look her in the eyes," he says. "Don't look anybody else in the eyes. Don't even look at your notebook." When Chloe's male trainer comes in, he reminds everybody, "No laughing, okay?" Finally Chloe is led in, and she's wearing a wig and a little doctor's smock. She's set up at a keyboard behind a desk.
Offerman is visibly unnerved. "I'll just be out here," he says as he inches away from the room.
The set is silent as everybody gathers around the monitor to watch this baboon type. The trainer makes Chloe look at Huebel and then look away. Mullally's jaw drops as she mouths the words oh my God. Corddry raises his shoulders in maniacal clown glee and whispers, "I hope, hope, hope Huebel gets his face torn off."
4. Two vape pens are better than one.
"My mother doesn't read this, so I can tell ya," Corddry says. "Why two? Well, because one's about to be kicked, so I need to have another one on hand. And I'm nursing a leg cramp right now so I want to have them by me."
5. Childrens Hospital operates by doing things in fewer steps.
"For David and I, being organized and productive is kind of like a hobby of ours," Corddry says. "I actually think it affects the show," Wain adds. "Like, because we're so obsessed with 'how do you get something done in less steps.' That's exactly what we do in the scripts. Like, how do we do something in half a page that normally people would take a page and a half to do. So it's discipline through 11 minutes. And we do that during our day. How do we get something done in three clicks that should take ten clicks?"
6. Corddry was published by Highlights magazine when he was in the fifth grade.
"I can tell you the first few stanzas if you'd like. I wrote it when I was in third grade. Takes a while to get published. It was called 'Darkness.'"
Darkness is a wonderful thing, it helps you go to sleep. But darkness is a scary thing, you might see things that creep.
7. Everybody who works on Childrens Hospital is pretty nice.
"I almost only find myself working with our family of comedians," Corddry says. "It's not that cutthroat comedy world anymore," David added, "where everybody is trying to be better than the next guy." Back in the day, Corddry notes, his improv group was known for burning people who didn't live up to their standards. "But it's not Bill Murray and Chevy Chase anymore, you know? And I think it has a lot to do with UCB. One of the lessons we were taught is 'Make your scene partner look good; worry about that, and you will look good by default.' It fosters this collective mind."
* A previous version of this article identified David Wain as the co-executive producer of Children's Hospital. He is the sole executive producer.