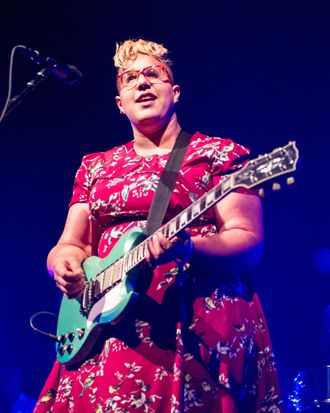 Photo: Ollie Millington/Getty Images
In 2011, when the Alabama Shakes performed what was to become their debut single, "Hold On," in a small record store for the Live From the Shoals recording series, it was singer and guitar player Brittany Howard's combustible energy that stood out. Barefoot and wearing glasses, she explodes around the two-minute mark as her bandmates nod their heads approvingly. Yeah, that's it. 
Fast forward four years. Alabama Shakes' new album, their second, Sound & Color hit No. 1 on the Billboard "Top 200" album chart in April. They've got upcoming gigs at some of the biggest festivals of the year this summer. Howard's emergence as one of the most memorable front women in recent rock-and-roll history seems all but written in the scrolls. "We played with Prince last night," she recalls casually over the phone in her sweet and charming southern drawl. "That was amazing. He just called and asked if we would stop by and do a show. And we were like, 'Yep.'" Not bad for a four-piece band from tiny Athens, Alabama.
In early reviews, critics noted that the Alabama Shakes borrowed heavily from '50s- and '60s-era rhythm and blues to project a purist sensibility and pay homage to a sound that had been forgotten. Howard elaborates: "An important part of being in a band is the rhythm section," she says. "And if you go back and listen to the best rhythm sections, you're going to find the Meters and the JBs and all of these studio players." When artists revisit sounds from a different era — whether it's Pharrell Williams or Leon Bridges — sonic nods are almost a necessity because "everybody is paying homage to everybody."
Howard continues: "I don't care what you're playing. You can be playing EDM music. Well, guess what? That came out in the early '80s. There's no way to be original. All you can do is put yourself into it and do the best you can. And if somebody wants to be throwback and stick to that tradition, then more power to them. If that's what makes them happy, do it. I don't really care, and I don't see why anybody else should either. I guess they're bored."
Either that, or there's money involved. The subject of paying homage versus ripping someone off became a particularly thorny issue this year after Pharrell Williams was found guilty of copyright infringement in the "Blurred Lines" case for stealing the "vibe" of a Marvin Gaye song. Not long after, Mark Ronson awarded additional songwriting credits to the Gap Band on "Uptown Funk" for what appeared to be preemptive reasons. The Alabama Shakes, too, clearly hearken back to an older era and artist's vibe, particularly that of Stax records.
If there's an uptick in groups specializing in throwback vibes from a different era, Howard says, it's not the bands that should be held accountable or punished, but the music business itself. "After we came out, people in the industry said, 'Oh, this is working, so we're going to start signing all of these bands that sound like this band.' It was an industry thing, and that's why it seems like everybody's doing it, but everybody's always done it, played this music."
Howard doesn't spend much time listening to old rhythm and blues 45s at the moment. She's in the middle of a tour, and her musical diet on the road is Erykah Badu, D'Angelo, punk, Ghostface Killah, and Mendelsohn. ("It'll help you be imaginative if you listen to classical music. It helps you understand dynamics and how important they are to create an environment.") Sound & Color has a wide range of influences, from shoegaze to MC5, and doesn't sound nearly as steeped in the '50s and '60s as the band's previous record, and that's to be expected, she adds. "To me, if you're a musician, then you're interested in music, and if you're interested in music, then you should listen to a lot of different types." She's not the first person to point this out, but she's just being honest.