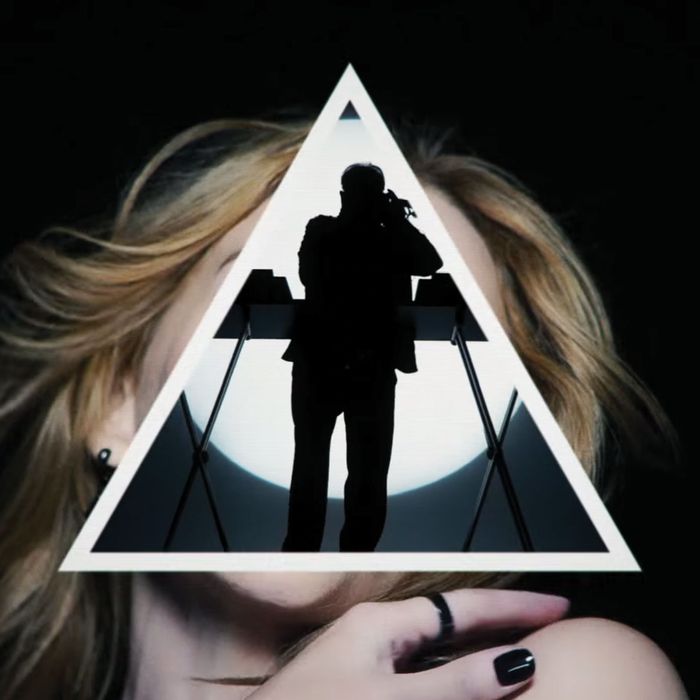 Moroder in the music video for "Right Here, Right Now, ft. Kylie Minogue."
"Forget "Touch," "Instant Crush," or even "Get Lucky" — the best love song on Daft Punk's Grammy-winning 2013 album Random Access Memories is "Giorgio by Moroder," a labyrinthine, freewheeling, and strange duet between a man and the machine he'd use to change pop music forever. The man is the legendarily mustachioed 75-year-old ­producer Giorgio Moroder, who, in a spoken-word segment of the Daft Punk track, waxes nostalgic for the heady early days of electronic music ("I knew that it could be a sound of the future," he says in his thick Italian accent. "But I didn't realize how much the impact would be"). The machine is the Moog modular synthesizer, which in the early '70s cost about as much as a small house. (Moroder was fortunate to know a wealthy German composer who owned one and would sometimes let him come over to experiment.) Landing somewhere in the vast space between a radio documentary and a club banger, "Giorgio by Moroder" is an odd song, one that could have become respect-your-elders preachy were it not for the warmth and infectious joie de vivre of the personality at its center. "My name is Giovanni Giorgio," he says memorably when the beat drops out, "But … everybody calls me Giorgio."
During the late '70s and much of the '80s, that name was ubiquitous. Giorgio was the guy you called when you wanted a sonically adventurous but melodically forthright hit — his biggest productions include Donna Summer's "I Feel Love," Berlin's "Take My Breath Away," Blondie's "Call Me," and the immaculately punctuated "Flashdance … What a Feeling." In 1979, he won an Oscar for the landmark, synth-driven score to Midnight Express; a few years later, he further secured his cult status, composing the unnerving score to Scarface. Moroder's greatest virtue was, actually, his gaucheness — to which he was so committed that it became a thrilling kind of iconoclasm. In 1984, Moroder turned Fritz Lang's Metropolis into an extended music video, recutting the silent masterpiece to tunes by Freddie Mercury and Bonnie Tyler. At the time, Moroder's Metropolis made film purists clutch their pearls; today, it feels like a precursor to a whole subgenre of YouTube videos in which amateur film editors set silent films to pop songs. At least while he was on top of the game, Moroder always seemed to have his feet stomping firmly on the floor but his eyes gazing toward a not-so-distant future.
He began his career as a solo artist in the late '60s, singing and composing songs that combined the structural compactness of '50s rock and roll with the sky's-the-limit experimentation of psychedelia and proto electronic music. (One of his best early songs is the anthemic "Son of My Father," a song that proves all "Spirit in the Sky" was missing was a Moog solo.) Moroder was a decent singer, a middling guitar player, and — as a very-much-worth-YouTubing 1969 French television performance of his bubblegum hit "Looky Looky" proves — a profoundly awkward dancer. One of Moroder's greatest strengths is an awareness of his limitations, and he knew that if he wanted his music to break through in the States, he'd have to find an avatar. Which is exactly what happened when he met his muse, an unknown American singer hanging around Germany. Her name was LaDonna Gaines … but everybody called her Donna Summer.
Beginning with the fogged-window disco ballad "Love to Love You Baby," Moroder found international success working with Summer, and their collaborations became increasingly avant-garde. It all reached a zenith with 1977's "I Feel Love" — not only the quintessential Moroder song but one of the most influential pop songs of all time. Techno, New Wave, and contemporary artists like Robyn, Grimes, and Daft Punk all spring from "I Feel Love." Its genius lies in the way it flaunts its superhumanness: The most innovative part of the song is the delay effect added to its three-note keyboard sequence, making the notes come at the listener slightly faster than human hands could play. "Never before," writes Peter Shapiro in his disco history Turn the Beat Around, "had a record so reveled in its own artifice."
For all his influence, Moroder's career stalled in the '90s and the aughts (he couldn't get in step with hip-hop's commercial takeover). Daft Punk's "Giorgio by Moroder" essentially lured him out of retirement and brought a whole new generation of fans to his great, still-prescient late-'70s solo albums, From Here to Eternity and E=MC2. A new album seemed all but inevitable, and Moroder was smart to strike while the iron was still relatively hot. Déjà Vu, Moroder's first solo studio album in 30 years, feels in some ways like a companion piece to Random Access Memories, on which Daft Punk sought to re-create the pristine sounds and glittering ambience of disco's heyday. But, with the exception of the featherlight, world-conquering hit "Get Lucky," Random Access Memories often felt like a stodgy and even pedantic record, doling out history lessons instead of hooks. (Its opening track is titled like a thesis statement: "Give Life Back to Music.") Moroder's record doesn't have the sprawling scope or meticulous attention to detail of RAM, but it has something very important that Daft Punk doesn't: a refreshing lack of self-regard and an understanding that disco was — first and foremost — about fun. "The disco sound, you must see, is not art or anything so serious," Moroder once said. "Disco is music for dancing, and I know that the people will always want to dance."
And, fittingly, Déjà Vu is a relatively uncomplicated, relentlessly fun record. Most of the 12 tracks find Moroder collaborating with contemporary pop stars, sometimes meeting them on their turf (the electro-pop of Charli XCX's "Diamonds" would have made sense on her latest record, Sucker) and other times dressing them up in the proverbial glittery platform shoes (Sia's string-kissed title track). The best collaborations handily double as reminder's of Moroder's influence; Kylie Minogue sounds so at home on the gloriously retro "Right Here, Right Now" that you're reminded once again how much her early-aughts singles owe to Moroder and Summer. Déjà Vu only falters when it puts some blander personalities up front. The Swedish singer Marlene fails to sell the generic "I Do This for You." Moroder's greatest moment of humanity on the record might be "Don't Let Go," a kind of admission that even he can't make Mikky Ekko interesting.
Déjà Vu's most memorable moment is also its most bizarre: Yes, this is a record on which a robot-voiced Britney Spears performs Suzanne Vega's "Tom's Diner," the album's sole cover. Britney caught flack for her mechanized vocals in the late '90s, but her spectacular entrance on Déjà Vu reminds us that her voice actually paved the way for the normalization of Auto-Tune and, by extension, the return of the vocoder. "Tom's Diner" puts more creative faith in Spears than anyone has in years; it's infinitely more enjoyable than "Pretty Girls," her current duet with Iggy Azalea, or, for that matter, her entire last album. Giorgio and Britney's working together is a stroke of pop-music genius: two savvy artists with limited "natural" abilities who used technology to explore a whole other realm of musical possibilities. If there's a God in heaven (or Las Vegas), they'll do an entire record together.
*This article appears in the June 15, 2015 issue of New York Magazine.