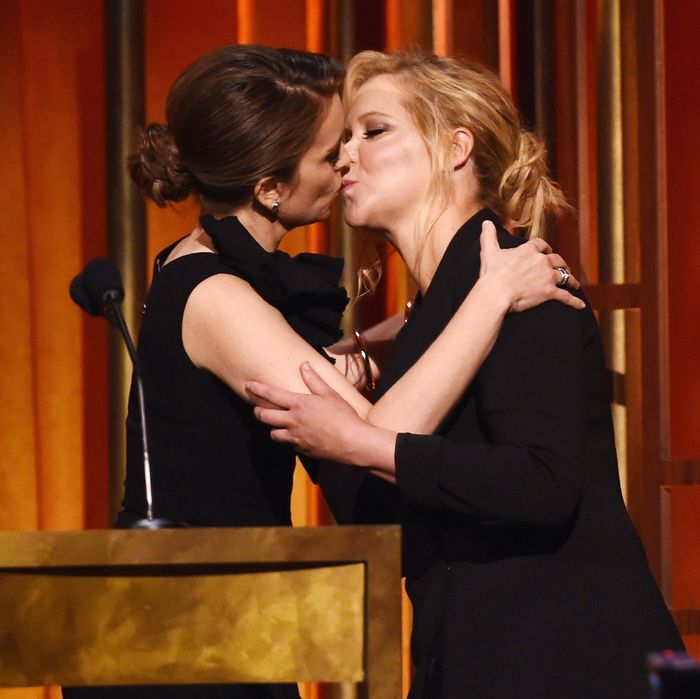 Just like Madonna and Britney.
Photo: Ilya S. Savenok/Getty Images
As Fred Armisen emceed the Peabody Awards Sunday night, he stepped aside when it came time for Tina Fey to introduce Amy Schumer as "the biggest deal in comedy right now." Fey said that Schumer showed that you could make successful rape jokes (which was one of our favorite sketches of last year), and then said that she wanted to "suck her soul out in a maybe very awkward staged lesbian kiss," sort of like Madonna:
Amy Schumer has been doing the impossible on a regular basis. She has a female-centric, overtly feminist comedy show on Comedy Central, a network that for years was the total equivalent of a 12-year-old boy's sock drawer. Even its most enlightened programs are enlightened sausage factories.

She has successfully made rape jokes. Many people can tell you that you can never, ever tell a joke about rape, but of course, it's all about context and point of view, and Amy and the Inside Amy Schumer show's brilliant sketch about sexual abuse in the military as filtered through violent combat video games was inarguably funny and so, so rapey ….

In a culture where young female entertainers are expected to be sexy without being too sexual, Amy's honesty is making everyone furious.

Amy Schumer is killing it, as the agents like to say, but usually they are lying, but in this case, it is true! Amy is killing it, she's the biggest deal in comedy right now, and that's why I really wanted to come down here tonight in a Madonna kind of way … maybe suck her soul out in a maybe very awkward staged lesbian kiss, um, but when I pitched that idea to Amy's camp, they came back with such an immediate yes that it kind of grossed me out.

And so, I'm feeling like we shouldn't do it. I mean, I know we practiced it a lot and you were going to like come to me and not be into it, and then I was going to be like, "Bossypants!" and then Fred was going to pull my cape off. But it doesn't feel right, right?

So, instead, I think we should give you like a really prestigious award. So, let's take a look at some videotape of your nonsense.
And after a few minutes of watching clips, the Peabody winner approached the stage, and then Tina Fey kissed her and sucked out all of the comedy inside Schumer.