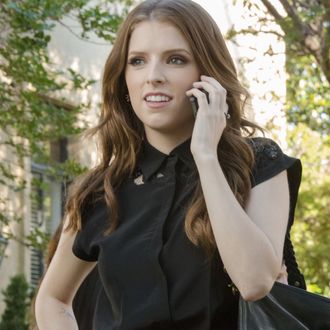 Anna Kendrick is a ca-excited.
Photo: Universal Pictures
Who can say no to a dump truck of money? Nobody! Despite seeming "distracted, depressed, conviction-less" in the second film (according to our critic David Edelstein), Anna Kendrick has signed on for a third go-around with the Barden Bellas. We already knew that Rebel Wilson was down for a third installment, which also has a release date set for July 21, 2017. Kay Cannon, who wrote the first two scripts, is in talks to write the third. To demonstrate her unbridled enthusiasm, a Universal PR rep Kendrick tweeted a photo with her mouth slightly agape.