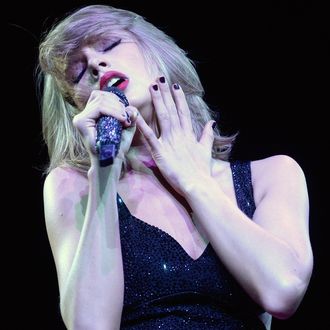 Taylor Swift.
Photo: Sascha Steinbach/Getty Images
Taylor Swift's Tumblr post was effective. Less than 24 hours after the artist publicly voiced her concerns with Apple Music's free trial period, the company decided to switch up its contentious royalties policy. Now artists will be paid, especially for streaming and especially during their customers' free trial period.
Apple's media honcho Eddy Cue shared the news on Twitter, mentioning T. Swift specifically:
Swift was pretty pumped about it:
Cue told Re/code that it was Swift's letter, in conjunction with other already-received complaints, that prompted the royalties reversal. "I did reach out to Taylor today, and talked to her, and let her know that we heard her concerns, and wanted her to know that we were making changes," Cue told Re/code. "She was thrilled to hear from us and that we were making the change, and we were grateful for that." Before calling Swift, Cue reportedly hashed things out with Apple CEO Tim Cook because ultimately they both wanted something done about the problem. Going forward, Apple will pay rights holders on a per-stream basis (which has not been disclosed yet) for the free trial, and then artists will receive their agreed-upon rate afterward. All hail T. Swift.