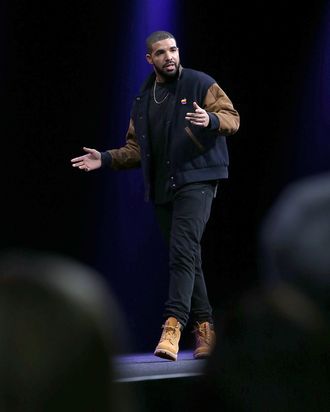 Drake speaks about Apple Music during the Apple WWDC on June 8, 2015 in San Francisco, California.
Photo: Justin Sullivan/Getty Images
After a drone had delivered coffee to Bill Hader and the oohs and ahhs of the iOS 9 and El Capitan demos had subsided, Tim Cook returned to the stage at today's Worldwide Developers Conference in San Francisco and introduced Apple Music, the tech company's new streaming platform. Though the service itself won't be out until later this month, the immediate reaction to the presentation has been tepid — highlighted by Spotify CEO Daniel Ek's two-word response. Since the app is likely going to materialize on your iDevices whether you want it to or not, here are six things you should know about Apple's latest attempt to revolutionize the music industry.
Apple has big plans for online radio.
Beats 1 Radio is a new global radio station that broadcasts live to more than 100 countries from New York, London, and Los Angeles 24 hours a day, seven days a week. Hosts include DJs such as Ebro (from Hot 97), Julie Adenuga (Rinse FM), and Zane Lowe (formerly on BBC Radio). There will be in-studio interviews and performances, as well as sets curated by guests and artists. So, you know, radio.
Discovery and curation will be data-driven, but with a human touch.
After creating a profile, users will be prompted to select their favorite bands and genres on the "For You" page. Using this data, and songs from the "My Music" page, which is synched to your iTunes library and recent purchases, recommended artists and curated playlists will be suggested. According to Apple, these playlists are created by expert Apple Music staff, not algorithms. Playlists can be reorganized using drag-and-drop.
You don't have to pay for the first three months.
As expected, the service will provide new users with a free three-month trial. After that, it will run $9.99 per month. There will also be a $14.99 family-plan option that accommodates up to six loved ones with their own individual profiles.
Siri integration will help expose you to new music.
Need to know — and then hear — the biggest song from 1982? Give Siri that prompt, and it will automatically open Apple Music and play the song.

Drake wants to Connect with you.
Apple Music's "Connect" feature is intended to make it easier for artists and fans to interact through music. Artists — from the unsigned to the well-established — can upload new videos, photos, handwritten lyrics, remixes, mixtapes, and other material directly. From there, fans can leave comments, like, and share. "It simplifies everything for the modern musician like myself," explained Drake, "and the modern consumer like you."

Apple will premiere a lot of music.
During the conference, Apple previewed a snippet from a song by a new artist named Loren Kramer. The upcoming commercial for Apple Music includes part of a