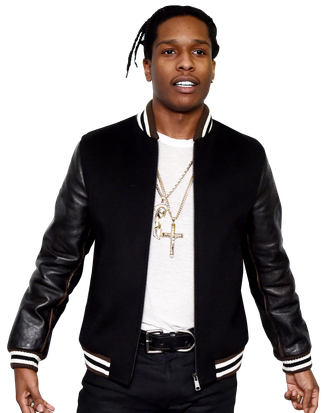 Photo: Ilya S. Savenok/Getty Images
A$AP Rocky is in a car on his way to Philadelphia to do a screening for the movie Dope, a coming-of-age comedy about a band of hip-hop kids trying to get out of L.A. The film, which marks Rocky's acting debut, is just one of several projects the New York rapper is juggling at the moment. His sophomore effort, At.Long.Last.A$AP, dropped last week (one week earlier than expected) and is now at No. 1 on the Billboard "200." The album includes a staggering number of guests — from Rod Stewart and Mark Ronson, to M.I.A. and Mos Def — that reflect the 26-year-old's wide-ranging tastes. On top of that, he's developing a new line of high-end luxury fur coats. "I can't help that I can multitask," he says. During a recent call from the road, the A$AP Mob member shared more details about his eclectic taste, the title of a dubious mixtape with Rod Stewart, and why you should never publicly disrespect Lil B.

This month you make your acting debut in the new Rick Famuyiwa movie Dope. Did you enjoy your first experience in film?
Yeah, it was actually fun. It was a really good first experience and it was a learning experience. I've always wanted to pursue acting. I'm into the arts. That was just something that I wanted to do. Dope started out as an independent film first. It wasn't meant to be a Hollywood box-office thing or whatever. When I was reading through the script, I connected with the character and auditioned for it. I did two video auditions, and then they had me come to L.A. while I was in the middle of recording out in London to do a physical audition. It went well.

It must've been hectic working on the album while also auditioning for your first film, but you always seem to be doing something that's unexpected.
It's just a case of me putting out something new. Whether it's music or inspiration or video or short films or movies or clothes. But I don't do it just to do it. I'm doing these things because I like to do it and it's what makes me happy right now. I don't want to be that guy that's, like, in everything. If you're just doing music nowadays, it's not normal. You've got to be doing this and that and da-da-da-da-da. I can't help that I can multitask because I'm diverse and I like a lot of things and my taste goes beyond that of a typical young black 26-year-old man. I listen to psychedelic music, I like fashion, I make videos, I'm in videos.
You've become a bit of a fashion icon as well, and there are reports that you plan to launch your own collection. Is that true?
That's not a fashion line. It's a fur line. We specialize in luxury fur coats. I'm going to have my own line of luxury fur coats. It's a Capsule collaboration.
Your new record features tons of guests, including Bob Dylan's grandson Pablo Dylan, M.I.A., and Mark Ronson. What made you want to include so many people?
I just felt like it kind of fit the whole charisma of the album, the psychedelics of my album. Everyone is unexpected. I didn't want to just go with people that would just guarantee a hit, necessarily. I just wanted to make good music, and I admire everybody that I worked with.
The most surprising cameo is Rod Stewart on the song "Everyday" with Mark Ronson and Miguel. How did that come together?
It was a Mark Ronson production, but I think going into it everybody had the same vision. Even Rod Stewart was happy with it. I was glad to know he liked it.
You didn't record with him in the studio, but have you connected since then?
Not really, no. You want to know if me and him have a mixtape coming out, don't you?
Do you?
Me and Rod Stewart have a mixtape coming out. It's called Born to Be Pretty and it's definitely a panty-dropper. Droppin' this summer. You already know.
Any chance that, in addition to the Rod Stewart mixtape, you'll release one with your Dope co-star Zoe Kravitz?
Yeah. It's going to be hosted by Lenny Kravitz. I've got some rock-star shit in the works, man!
Would you ever release a straight rock-and-roll album? Anything that's a complete departure from what you've been known to do?
Nah, man. I wouldn't just jump into another genre. That's like being an athlete and going from one league to another. For me, I let my inspirations and influences in, and that's better for the music, as opposed to just trying to do a whole different genre. I think you should master your craft before you present new art to people, or at least try to master it. I enjoyed my first trial with that, but I don't know if it's mastered. It might be rookie level. It might just show I'm a novice. But, no, I never wanted to do that. I'm a fan of it, but just because I'm A$AP Rocky doesn't mean I could just pick up and make a whole rock-and-roll album, just because I like it. I like some psychedelic shit, but that's just not me. I'm not a rock singer.
Speaking of sports, I know you're a basketball fan. Do you think Lil B's curse on James Harden is the reason the Rockets were knocked from the playoffs?
That was fucking hilarious. I'm not going to lie.
Can you explain the backstory for those who may not know what happened?
Every time Harden scores, he does this cooking dance, and you know Lil B is the originator of cooking and chefing. And I guess Lil B felt some type of way, and was like, "Yo, James Harden, just give me my props." You know he first put the curse on Kevin Durant. He said Durant would not win any championships for the next couple of years, and ever since he did that, he has never won. Even getting MVP, Durant has never won a championship. With Harden, he called him out on social media and told him he had a day [to acknowledge him]. He didn't do it, and Lil B said, "Okay, I'm sorry." He put a hex on him and said he was going to go on a losing streak and that he wasn't going to the finals. Yo, and then Lil B showed up to the last game wearing a turquoise bucket in the front row when they lost. It's real. All I'm going to say is, don't disrespect Lil B on social media because the bitch mob task force will come after you.
But isn't the cooking dance the same motion as the "flick of the wrist"? If so, why doesn't Lil B put curses and hexes on everybody?
Yes! It's because he originated it and Harden is already famous, and now he's also famous for that dance. So it's like, "Wait a minute. It's okay when everybody's doing it, but when you're capitalizing off of it, give me my props." Lil B didn't say, "Give me a check." He didn't say, "I want money." He wasn't trying to extort him. I think he was just trying to tell him, "Give me my props on social media." And he didn't give it to him, and so he cursed him. You can't disrespect Lil B on social media. It's just not going down. I wouldn't advise it.
This interview has been edited.