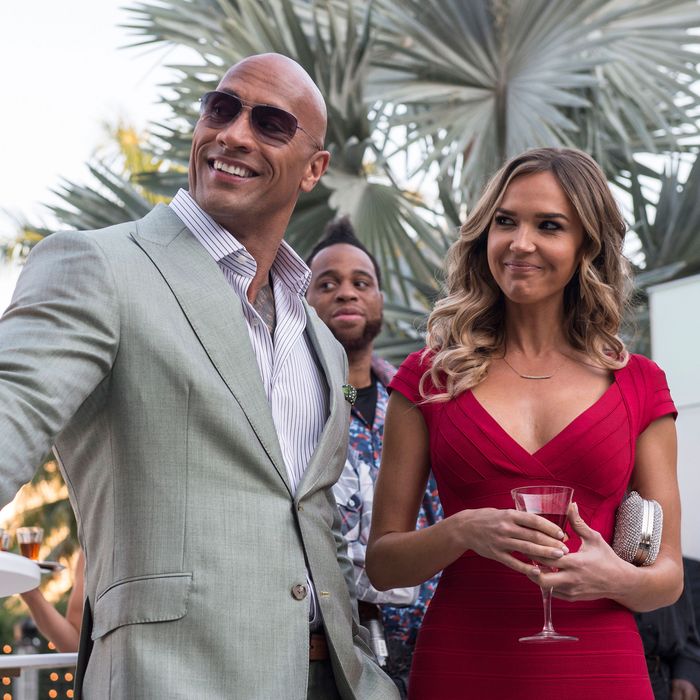 Ladies and gents, the Rock.
Photo: HBO
This new dramedy, from most of the team who gave you the long-running HBO show (and its recent, critically slammed, dead-in-the-water movie spinoff), seems to be working from that earlier program's same playbook: It follows a multi-million-dollar, celebrity-filled entertainment industry, seen through the eyes of a young star and his cronies. However, Ballers is immediately doing what Entourage really should've done: It makes the crew's money man the star of the show. (Let's be honest here: E was always more interesting than Vinnie!) And there's good reason for that: The show is created by Stephen Levinson, who shares executive-producer credits with his longtime business partner/client Mark Wahlberg. So, yeah, E created Ballers.
The E on the show is Spencer Strassmore (Dwayne "the Rock" Johnson), a former Miami Dolphins defensive end who is now angling to be a financial adviser to NFL stars. Well, if he's E, then who's Vincent Chase? Look no further than hotheaded wide receiver Ricky Jerret (former ball player/Denzel's son John David Washington), who nearly screws up his football dreams when he pops some smack-talking dude at a club (immediately after hooking up with someone in the bathroom) and gets cut from the Packers. We also have Charles Greane (Omar Benson Miller) serving as a Johnny Drama/Turtle mash-up, a lovable, less-respected, retired player who's just happy getting a job working at a Chevrolet dealership. As for who's Ari, we have two motormouthed characters for that: Jason (Troy Garity), Spencer's ex–sports agent and Ricky's current one, and Joe (Rob Corddry), Spencer's dickhead of a boss at his financial-management firm.
With all this alpha-male testosterone front and center, one obviously thinks that Ballers is just going to be about men behaving badly and getting rewarded for it. (If Margaret's review is any indication, then that's what we may have to look forward to in the coming episodes.) However, the pilot does start off making our main ballers — Spencer, Ricky, and Charles — realize how much they need to take responsibility for their lives.
It's the death of Rodney, an old divalicious teammate who died in a car crash (along with his unstable side chick), who brings our boys together. And even though his widow (singer and former Destiny's Child member LeToya Luckett) now has to deal with her husband's lack of a will, she still has time to give our hero Spencer some words of encouragement. "Start by helping yourself," she tells him. "You're a grown-ass man, so figure that shit out."
Although Johnson's million-watt charisma keeps his character from looking like a complete mess, Spencer is more or less a walking cautionary tale. The episode starts with him waking up to flashbacks of his pummeling glory years, eventually aching and limping his way to the bathroom, downing some painkillers, and chewing those babies like Flintstone vitamins. But he definitely seems to have his priorities straight these days. When Ricky comes to him for advice as he considers retiring rather than getting traded (or "pulling a Tiki Barber," as Spencer calls it), Spencer definitely lays the smackdown on his candy ass:
Let me tell you how it went down for the golden boy. I had this vision of my retirement day: standing up at the podium, microphone in front of me, coach on one side, the owner on the other, family and friends around. You know how it really went down? I was sitting up in my goddamn living room just staring at my cell phone, waiting for that call to come in from the owner, the GM. I would've taken a call from the fucking trainer. "Thank you, Spence. Appreciate it, Spence. Good luck, Spence." You know when that call finally came? Never … You better wise the fuck up, because you've got one contract left. And when it's done, you're gonna be out here on the streets with the rest of us. You keep fucking up like this, you keep acting like a little kid, when it's done and you're done, you're gonna be broke and miserable. And you know what the worse part about it is? Nobody will give a fuck about you."
Damn. I almost feel like the whole show was created just so the Rock could give that monologue. Yeah, this is definitely his For Your Consideration moment.
Anyway, thanks to a phone call Spencer makes to an ol' Dolphins recruiting pal (Dulé Hill), who also gets some intel from Charles when he swings by his dealership, Ricky gets a shot to play in the Dolphins. He almost screws that up when he's one minute late to see the coach (Peter Berg, who directed the episode) before he goes on a fishing trip. Luckily, Ricky sticks around at the dock and the coach returns to welcome him to the team — but not before Ricky gets the fish off the boat.
While Ricky is appearing to learn from his mistakes, Spencer might've made a big one by giving $300,000 of his own loot to rising player Vernon (Donovan Carter), who needs it because, basically, he has an unlimited number of people in his entourage he needs to take care of — many of whom he doesn't know. Nevertheless, Spencer agrees to pick him up as a client, which seems to zip right past Vernon's head when Spencer extends his hand for a trusty shake. And Spencer may regret getting involved with him when the episode ends with him on a date, trying to get money from an ATM, and he has insufficient funds. As someone who's been down that road way too many times, that was the most gut-wrenching thing I've seen this weekend — and, yes, I have seen Inside Out!
Hopefully, as the weeks progress, Ballers dodges the mistakes Entourage made about Hollywood and actually shows the football world as the cutthroat, unforgiving, physically and mentally debilitating atmosphere it can be — and often is.
ONE STRAY THOUGHT
I couldn't leave this recap without bringing up how women are portrayed on the show. And, yes, they are, for the most part, superficial eye-candy. The first gal is laid out butt-bald on Spencer's bed. Then, of course, we get the club groupie who disses Charles and gets a bathroom quickie with Ricky. And let's not forget the naked-lady golfer who's giving Jason the reverse-cowgirl treatment. Even Ricky's actual girlfriend (Anabelle Acosta), who seems to turn a blind eye to his creepin' ways, is a gorgeous lady who only cares that her man stays in the game. It's a good thing Charles has a dedicated wife (Jazmyn Simon) who's good-looking but also a well-written character. The playful chemistry she and Miller have was one of the nice surprises of the episode. I hope to God the writers don't screw that up.