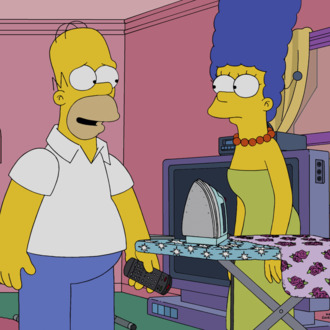 Homer and Marge.
Photo: FOX/© 2015 FOX BROADCASTING
Over the weekend, Simpsons executive producer Al Jean told Variety that in the next season's premiere Homer and Marge legally separate. Since then, there has been a flurry of reports that have taken that teaser one step further, claiming that the couple are breaking up for good — also that nothing's sacred, love and your childhood are both dead, and The Simpsons is turning into the most depressing series ever (because their son is also dying, briefly). Bart Simpson wants you to know, however, that this is all a bunch of baloney and that that separation might not be permanent.
The show's official Twitter account posted a pic of the little rebel setting the record straight (or pleading in denial) Wednesday night:
As a handful of other outlets have pointed out, Homer and Marge have divorced before. In fact, the lovebirds were divorced for 12 seasons, and have many a time wandered near flirtatious trouble. Fear not. The show's second Wednesday night tweet alludes to the fact that these marital hurdles typically end with Marge and Homer sorting out their differences:
In a statement released to the Wrap, Jean (kind of) clarified: "I didn't say Homer and Marge are breaking up. I said they are bigger than Jesus." Right. So who knows how or why Homer and Marge will split, and who knows how long it will last? (Jesus, maybe.) Regardless, kudos to Jean. This has been a master class in making sure an almost-30-year-old show can still generate headlines and remain relevant — also, a brilliant way to make sure everybody tunes in for Lena Dunham's Simpson episode. Also, I think this means love and your childhood are still alive and safe. Bravo.