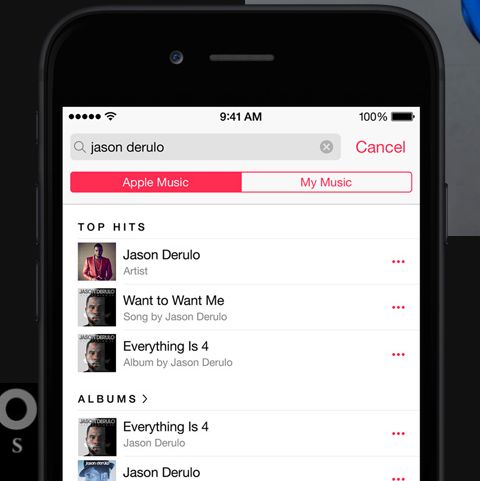 Yesterday, during a demo at the Crosby Street Hotel in Manhattan, I was given a first look the new Apple Music app, launching June 30. There's not much revolutionary about it — you can create your own playlists; you can share your music with your social network; there are discovery options; a staff of editorial curators recommends playlists based on your tastes and habits; and so on. None of this is particularly exciting. They're features we've come to expect — Apple-ized. Great, but not that impressive.
As with all things Apple, the design is flawless. It offers the most user-friendly music-streaming experience available — bar none. As soon as you open the app, you're given a bounty of colorful options to choose from (genres, charts, artist profiles, playlists, albums, activities, videos, podcasts), and you're always only one click away from playing a song. The Connect feature acts as a sort of private social-media feed with exclusive content posted by artists you follow. (Note: It's basically Instagram.)
You cannot purchase music in the Apple Music app. For that, you must close out and open iTunes. This is Apple's tacit way of telling us that MP3s are dead, but we already knew that, and so does Taylor Swift, who over the weekend managed to single-handedly change Apple's royalty strategy by getting the tech company to forgo its plans not to pay artists during the three-month free-trial period being offered to all new Apple Music users. (After the trial period, Apple Music will cost $10, like everybody else. Apple has not revealed its full royalty-payment structure but confirmed that 70 percent of its revenue will go to rights holders.)

With all that being said, one thing that stood out during yesterday's demo was Beats 1, Apple Music's new live global radio program — in my opinion, its tentpole feature.
Apple has corralled a variety of A-listers as talent. The elusive Dr. Dre will have his own show, in addition to Pharrell Williams, St. Vincent, Jaden Smith, Drake, and Elton John. The three flagship shows will be hosted by veteran DJs Ebro from Hot 97 in New York; Zane Lowe, the vaunted BBC DJ now based in Los Angeles; and Julie Adenuga, a hip-hop and grime expert who is in the London studio. A sketch of what the 24-hour programming would look like included a show based on global music charts and hosted one- and two-hour music broadcasts, exclusive artist interviews (Lowe's first guest will be Eminem), and additional specialty "magazine-style" programs on weekends.

Beats 1 won't just be music. It will also have a news and culture desk reporting on new releases in both film and television.
The whole thing is sort of Trent Reznor's brainchild. Dr. Dre and Jimmy Iovine brought him onboard around the time Apple acquired Beats from the duo last year for $3 billion. Since then, Reznor has been flying to Cupertino and working with designers and developers.

This helps explains why Beats 1 feels like such an ambitious undertaking. Reznor is one of the most innovative artists of the past three decades, and figuring out how to create a sustainable relationship between music and the digital space has long been one of his personal and artistic objectives. Broadcasting live radio in over 100 countries 24/7 is just his latest in a long line of previous efforts.

Beats 1, which has been compared to satellite radio Sirius XM, plans to help break new artists, create new icons, and maybe even fill the cultural void left by MTV when it decided to focus its programming on reality television instead of music. Does it have the power to do all of that? I don't know, but the prospect is pretty damn exciting. We'll know a lot more when Apple Music launches next week.
Hey, no pressure, guys.