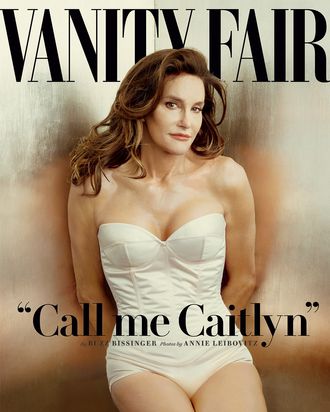 The public transformation of Bruce Jenner to Caitlyn has been, by all accounts, a smashing success. Her cover profile and photo spread in Vanity Fair were greeted with rave reviews. She became a Twitter superstar overnight. Even Jon Stewart was amazed at how well the media covered her debut (well, mostly). The rollout didn't happen by accident, of course. Caitlyn Jenner's debut and Bruce Jenner's April farewell were the result of a highly organized public-relations campaign — one of the most masterful in memory. But instead of trying to sell a product or cover up a scandal, this effort had a different aim: to allow its subject the chance to reclaim ownership of her own story.
As brilliantly as things have gone for Jenner this week, the situation was very different just a few months ago. For most of 2014 and the first part of 2015, the Olympic hero had been reduced to a sideshow freak in the Kardashian circus, pummeled with equal vigor by the gossip industrial complex and late-night comics over Jenner's changing appearance. As Buzz Bissinger makes clear in his profile of Jenner, the tabloid drums were not being beaten by Jenner in some attempt at publicity. In fact, after TMZ reported in late 2013 that Jenner had consulted with a doctor about a tracheal shave, Bissinger details how Jenner seriously contemplated suicide. It was only after Jenner had fully come out to her family that she began attempting to change the narrative surrounding her transition. And according to multiple sources familiar with the situation, that campaign began in earnest around December 2014, when Jenner hired Alan Nierob, of the powerful Hollywood PR firm Rogers & Cowan.
This selection was no accident: Rogers & Cowan has represented Jenner on and off since her 1976 Olympic triumph. (Jenner's first publicist at Rogers & Cowan? The late Dale Olson, whose client list included Rock Hudson and Marilyn Monroe.) Nierob is widely respected, and he also has decades of experience guiding clients such as Robert Downey Jr., Rob Lowe, and Mel Gibson through rough patches. But more than that, according to public-relations industry insiders, Nierob has known Jenner both socially and professionally since the early 1980s. There's a trust there. During the recent special Keeping Up With the Kardashians: About Bruce, Kim talked about a 1980s incident in which a publicist hired by Jenner convinced a reporter not to publish a story about seeing Jenner dressed as a woman. That publicist was, in fact, Nierob, a public-relations insider familiar with the situation confirms. (Nierob, however, isn't commenting: He has refused all interview requests and declined to comment for this story.)
Once Jenner hired Rogers & Cowan, the agency began constructing a detailed, carefully choreographed strategy to say good-bye to Bruce Jenner and introduce the world to Caitlyn. The first part of the plan focused on Jenner taking back the story by simply telling it. It wouldn't be hard to find an outlet willing to do so: Jenner at this point was constantly fielding interview requests from reporters who wanted to know what was going on with the celebrity. (Bissinger's story notes that even the New York Times had made inquiries.) Vanity Fair was one such news organization: The magazine's chief spokesperson, Beth Kseniak, confirms the magazine "reached out to the Jenner camp last year." That request initially went nowhere. "They told us that he was not doing anything because of TV commitments," Kseniak says. That commitment was probably the Sawyer interview. While the network isn't talking, an ABC insider with knowledge of the situation told us Sawyer's producers began seriously talking to Jenner's team in December 2014.
It wasn't a long discussion: ABC had an agreement to interview Jenner in place by January, as indicated by reports at the time. What does seem clear is that, despite the frenzy of interest, Jenner's team didn't shop its client and completely avoided the sort of bake-off that often occurs when various networks and anchors are looking to land a big "get." Indeed, while our ABC source says a producer from the network held an advance meeting with Jenner, Sawyer herself didn't even meet with Jenner in advance of their sit-down. This supports the notion that Jenner's team didn't feel a need to round up all the usual (celebrity interview) suspects. "Bruce wanted Diane, and did not need to meet with anyone else," as our network source says.
On one level, it wasn't a particularly shocking or difficult decision: The veteran anchor/reporter — along with Barbara Walters, Matt Lauer, Oprah Winfrey, and Katie Couric — has long been one of a handful of broadcast personalities chosen when celebs and other public figures have the need for a prime-time tell-all. Still, given Jenner's association with NBCUniversal (it owns E!), either E! or NBC News might have also been a logical choice. NBC News certainly thought as much: When word leaked out in February that Sawyer would be talking to Jenner, BuzzFeed's Kate Aurthur reported the decision had caused "internal consternation" at NBC News.
PR professionals we spoke to, however, suggest the corporate synergy between NBC News and E! was, in this case at least, a good reason for Team Jenner to stay far from the NBC empire when selecting an interviewer. To many, Jenner's motives were seen as suspect. All the rumors and leaks appeared to be a ploy to either boost ratings for Keeping Up With the Kardashians or the long-rumored Jenner docuseries/reality show. To ensure maximum credibility, Jenner needed the first big interview to occur in a venue as far as possible from the Kardashian empire, so that the motives of both Jenner and the interviewer couldn't be questioned. And it worked: Anyone monitoring Twitter the night of the ABC broadcast could watch in real time as public skepticism about Jenner gave way to an outpouring of empathy and then support. The opposite of this approach was on display this week, when the Duggar family chose the friendly home turf of Fox News to defend Josh Duggar's history of molestation. Interviewer Megyn Kelly's blame-the-liberal-media questioning, even if sometimes tough on the Duggars, only served to increase online outrage over the situation, and there's little evidence the family did much to defuse the matter (though it's possible nothing could).
At the end of Sawyer's conversation with Jenner, the ABC journalist talked about saying "farewell" to Bruce and hinted at the transition to come. Sawyer, who had met with Jenner in February, said she hoped to speak with Jenner again in the future, after the transition. Of course, by the time the interview was broadcast on April 24, Jenner had already undergone facial feminization surgery. In theory, Caitlyn Jenner could have done a follow-up interview with Sawyer, revealing her new identity as part of the same special. The fact that this did not occur prompted some of the old skepticism that had greeted Jenner in the past to pop up again. There was a reason Jenner "didn't reveal how he looks dressed in women's clothing in the [Sawyer] interview or what his new name is," Taffy Brodesser-Akner argued near the end of an early May profile of Kris Jenner for The New York Times Magazine. Jenner, she theorized, was borrowing Kris's "hustle" of monetizing family secrets. "You'll have to tune in to his show to see that," Brodesser-Akner wrote.
This assumption was not unfair, given the Jenner-Kardashian history. Before the Vanity Fair story this week, many media and TV-industry insiders had figured the reveal of the person we now know as Caitlyn would be saved for the E! series. But, as with the call to talk to Sawyer rather than someone at NBC News, Jenner's advisors smartly seem to have decided that holding back such an important moment for a cable reality show — particularly one on the E! network — would cheapen it, and once again prompt cynics to question Jenner's motives. Instead, the person Jenner referred to in the ABC interview as "her" — and whom we now know as Caitlyn — would make her debut on the cover of Vanity Fair. This plan was already in place before Jenner had even had completed her conversation with Sawyer. Per Vanity Fair's Kseniak, "Alan [Nierob] reached out to us in January," beginning the process of booking the Jenner profile and cover shoot.
Why Vanity Fair and not, say, Time (where Ellen DeGeneres famously came out as, yep, gay in April 1997)? Again, because of the tight cone of silence Rogers & Cowan is maintaining, it's hard to say precisely. Newsweeklies don't carry the cachet they did two decades ago, so that likely was a factor (much the same way Oprah probably missed out on the TV exclusive because the interviews she's done on her cable network haven't drawn nearly the ratings she used to draw in syndication or with her ABC specials). Public-relations and media-industry veterans suggest the Jenner camp probably settled on Vanity Fair because of two journalists on its masthead: Bissinger and Annie Leibovitz. The latter is in a class of her own among celebrity photographers. And, as Kseniak notes, Friday Night Lights author Bissinger "was the obvious choice, given his sports background" and the fact that he has written about his cross-dressing and, as he put it in a follow-up interview this week, "dealing with my own issues of shame" regarding his "gender struggles, which were not nearly as big as" Jenner's.
If the decisions to unveil Caitlyn Jenner in a monthly magazine, following a TV interview on ABC, were decidedly old-school, this week has seen the campaign take a decidedly modern turn. Jenner and Vanity Fair worked together to keep the Bissinger cover story and Leibovitz photo shoot a nearly complete secret right up until the moment it was revealed Monday afternoon via a simple tweet and hashtag ("Call Me Caitlyn"). Caitlyn herself debuted on Twitter a few minutes later, amassing more than 1 million followers within slightly more than four hours, faster even than President Obama's record pace last month. (She now has over 2.5 million followers.) As with the Sawyer interview, the Vanity Fair rollout was greeted with near-universal acceptance and even enthusiasm (save for, predictably, a few jerkish comments from Fox News personalities not worth linkage).
The Jenner transformation plan isn't over, of course. Caitlyn Jenner is scheduled to make her first major public appearance at next month's ESPY Awards, where she'll receive the Arthur Ashe Courage Award. News of the honor was reported in the Vanity Fair article and via a near-simultaneous press release, indicating key execs at ESPN were aware of Caitlyn's transition timetable. But it's also almost certainly no coincidence that Jenner will appear in public before her E! show premieres. Just as the Vanity Fair interview was, in a way, an answer to potential critics who believed the Jenner camp was "saving" the reveal of the woman we now know as Caitlyn for the E! show, having Caitlyn Jenner give an acceptance speech and interact with other celebrities at a big public event further aids the strategy in blunting the cynicism: She is not holding back the walking, talking version of herself for E! — for "profit." (E! did, however, make sure to get some mileage out of Caitlyn Jenner's debut week: On Wednesday, it released the name of her show — I Am Cait — and a one-minute promo that generated 4.5 million views within 24 hours.) Appearing at the ESPYS will also allow Jenner to reconnect herself to the athletic community, particularly among younger audiences, many of whom only know her as the "dad from the Kardashian dynasty."
Not everything about the Caitlyn rollout has gone as planned. The biggest difficulty came just days after the Sawyer interview was taped, when Jenner was involved in a fatal car crash (and was subsequently sued). That no doubt caused the Jenner team to put some elements of the plan on pause as Jenner dealt with the ramifications of the accident. Sawyer's interview was already in the can, and ABC News insiders say the accident played no role in when the network aired the special. However, other industry sources insist Jenner's E! show delayed production for a few weeks because of the accident. It doesn't seem a stretch that the ABC special may have been pushed back a few weeks in order to fit into the larger timetable of the Jenner rollout.
Going forward, if there's anything that could derail what so far has been a masterful introduction and image transformation, it's probably the E! series. Based on media reports and sources in the reality-TV community, the idea for doing such a show was likely first raised sometime in 2014, probably before Jenner hired Rogers & Cowan to reshape a media narrative. The actual decision to move forward with the series, however, as well as filming, seems to have come this spring. In his story, Bissinger lays out in detail how Jenner's biological children from his pre-Kardashian days have been staunchly opposed not to the idea of the series, but to the decision to work with the same network and production company (Bunim/Murray) behind Keeping Up With the Kardashians. Their worry, not at all unfounded, is that what's being called a "docuseries" will instead turn into a tawdry, semi-scripted sideshow. Bissinger describes a meeting Jenner took with another reality production company early this year, a one-on-one a source says was arranged at the request of the children. They don't trust Bunim/Murray to tell their dad's story the right way, according to the Bissinger story, and have opted not to participate because of those fears. "With Bunim/Murray and E!, it's been the opposite of inspiration," Brandon Jenner told Bissinger.
But despite these objections, and the meeting with another production company, multiple sources in the reality-TV community say that Jenner always seemed intent on sticking with E! and Bunim/Murray. As with the Sawyer interview, there was no competitive bidding for the project among networks or producers. This seems surprising, given the Jenner children's objections and how much space Jenner's team has put between their client and the Kardashian media empire. But sources in the production community say they were told Jenner had a comfort level with the Bunim/Murray production crew, most of whom he's worked with for years on Keeping Up With the Kardashians. Switching to a whole new team of camera operators and lighting techs, during what's literally been a time of enormous transition, wasn't a particularly attractive option in Jenner's mind.
It's a decision that might have also left some money on the table: In TV, the best way to score a big payday is to get networks and studios to bid against each other for a hot project, driving up the price in the process. Jenner probably could've made more had the team been allowed to shop the potential show around. Not that Caitlyn will be left empty-handed. When the Kardashian klan signed a multi-year renewal deal with E! earlier this year, TMZ — often quite accurate on such matters — pegged the value of the multi-series deal at around $20 million per year for up to four years and several TV shows. Given those figures, a Radar guesstimate that Jenner will make $5 million for the first season of I Am Cait seems almost conservative. As an exec producer of the show, Jenner likely has an ownership stake in the series, too. That means she stands to make more money in the long-term — if the show returns for multiple season or sells well internationally. The fact that Jenner will gain financially from her story will, of course, cause some to once again question the motives of her actions the last six months. She tackled those charges directly in the Vanity Fair profile. "'Oh, she's doing a stupid reality show. She's doing it for the money …' I'm not doing it for the money," Jenner told Bissinger. "I'm doing it to help my soul and help other people. If I can make a dollar, I certainly am not stupid. [I have] house payments and all that kind of stuff. I will never make an excuse for something like that. Yeah, this is a business."
As for fears E! and Bunim/Murray can't produce a non-sensational show, Jenner's son may yet be proven correct with his fear. But there are reasons for cautious optimism. For one, the sensitivity shown by ABC News and Vanity Fair in their treatment of Jenner resulted in both media outlets winning critical praise and big audiences. This could inspire E! and Bunim/Murray to go for a similar response, if only because if they now chose to put on a Kardashian-style carnival, the public backlash would likely overwhelm whatever Nielsen success such a show would have. And in the Vanity Fair article, E! programming chief Jeff Olde insists the new show "will not resort to spectacle" and is "not at all a Kardashian spin-off." That might be spin, of course. (And E! refused to make Olde available for an interview, and declined all comment.) But one reality veteran producer who knows Olde well (and has zero connection to the Jenner show) believes the E! exec (who previously worked at VH1) is genuine in his desire to make a good show. "This might not make sense because of where he's been and where he is now, but he has a history of being honest and a straight shooter," the producer says. "If he says something he means it. And if he made a commitment [to Jenner], he will live up to it." This source also argues Bunim/Murray doesn't have to resort to bottom-feeding reality TV to produce a hit. "They don't need to do something sensational," the producer says. Viewers "aren't looking for that. They want to connect to Caitlyn. I think they have the opportunity to do something special." The final reason to be hopeful: Caitlyn Jenner is an executive producer of her show and as such will have enormous say in the direction of the series. Given how she has handled her rollout so far, she appears to know exactly what she is doing.