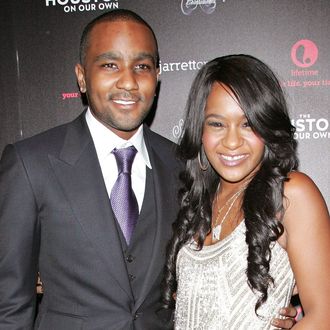 Nick Gordon and Bobbi Kristina.
Photo: Jim Spellman/Getty Images
Back in February, after Bobbi Kristina Brown was found unconscious in her bathtub and hospitalized in a coma, police launched an investigation into her boyfriend, Nick Gordon, for possible foul play. Now Bobbi Kristina's conservator has filed a lawsuit against Gordon that accuses him of assault, theft, and fraud. According to court documents, Gordon, 25, is being accused of dragging Bobbi Kristina upstairs by her hair, withdrawing her funds without authorization, and knocking out her teeth on January 31, the day she was found unresponsive. The lawsuit also says that Bobbi Kristina and Gordon got into a "loud argument" before police found her, and that she was supposed to meet with an unnamed "confidant" about his abusive behavior that same day. The lawsuit claims that Gordon transferred $11,000 from Bobbi Kristina's account after she was taken to the hospital.
Since the incident, there have been concerns over who gets control over Bobbi Kristina's inheritance from her late mother, Whitney Houston, if Bobbi Kristina does not wake up from the coma. Billboard reports that, according to a will, if Bobbi Kristina dies ­unmarried before the age of 30, any undistributed portion of Whitney's estate would go to her living relatives (currently, her mother, Cissy, and two brothers). The new lawsuit filed on the 22-year-old's behalf is accusing Nick Gordon of lying about being married to Bobbi Kristina. It alleges that up until 2012, Gordon had presented himself as Brown's surrogate brother. But after Bobbi Kristina inherited Whitney's money, he "assumed the position of Brown's boyfriend" and, as of January 2014, has "perpetuated the fraud that he had married Brown, though in fact he never did so." On Wednesday, the Brown family moved Bobbi Kristina to hospice care.