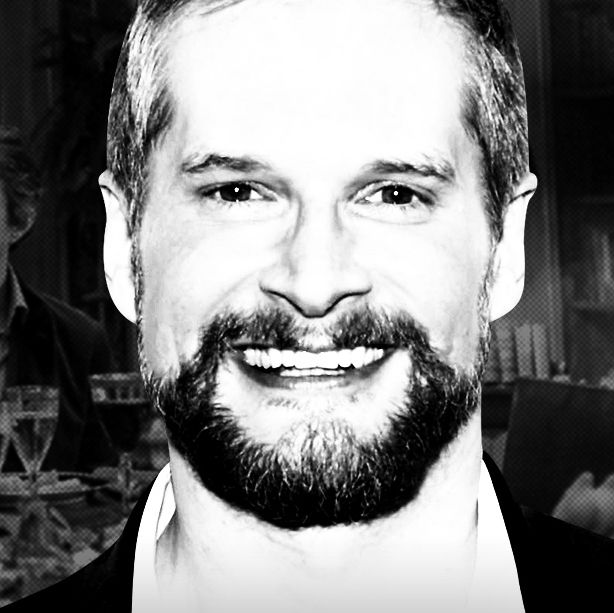 Photo: Maya Robinson and Photos by NBC, Getty Images
Bryan Fuller has never been afraid of death. Last summer, the writer and filmmaker crawled into bed with his elderly cat, Bela, tucked under his arm, in that warm, protective crevice he slept in every night. Together, they faced the end. "He curled up in my arm and we gave him a shot, and he went to sleep," Fuller recalls of feeling Bela slip away. "It was so peaceful and dignified and honorable that it was hard not to have awe. It was one of the most beautiful experiences I've ever had."
Fuller, 45, has long been obsessed with mortality. Yet for someone so fascinated with the morbid, in conversation he is charming and downright cheery. All wide-frame glasses and unkempt beard, Fuller is quick to extend an invite for coffee minutes after making your acquaintance, or slip in a self-deprecating comment. It's enough to make you forget he's the man responsible for NBC's horrifying Hannibal, which returns for its third season Thursday night. It's Fuller who principally dreams up the show's notoriously brutal, visually stunning killings, dismemberments, and the gruesome cannibalistic fantasia that plays out onscreen each week. Ask him if he possesses a sadistic streak beneath the sunny surface, and Fuller chuckles: "I've never quite divorced the horror of death from the beauty of life," he says. "They go hand in glove. There is whimsy and light to be found in everything."
This dichotomy has helped make the onetime sci-fi geek — and creator of shows like Dead Like Me and Pushing Daisies — one of the most singular, complex voices in television. On the dreamlike Hannibal in particular, Fuller constructs images of cannibalism and violent death to evoke emotional responses. In watching the critically beloved show, it seems Fuller views the act of killing as nothing short of an artistic performance. (In an early episode of the show's third season, a mutilated torso is displayed at the front of an Italian cathedral as if that of a revered prophet.)
"His imagination is far beyond anything I've ever seen," says Mads Mikkelsen, who plays the titular serial-killing psychiatrist on Hannibal. "His brain works on a level I'm not used to. He's literally coming up with some of these scenarios or these plateaus for all the killings that are so gruesome and at the same time extremely beautiful. And when he sells it, it's almost like a piece of music as opposed to a horror film."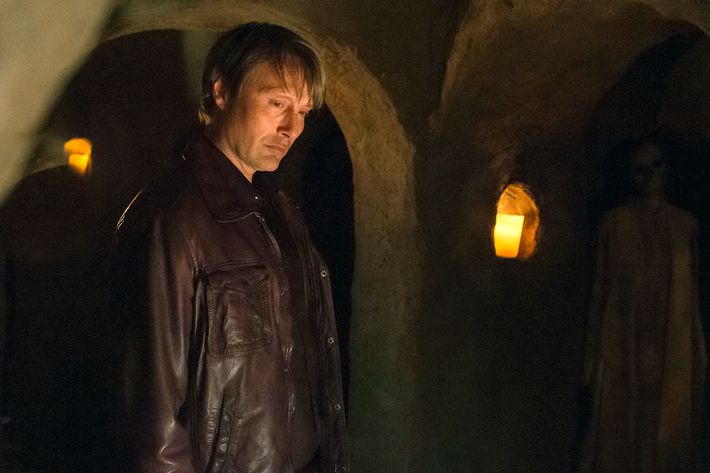 Fuller's attention to detail has earned him a reputation as a sometimes prickly, precise, and stubborn creative — equally vigilant about making a beautiful end product as he is in seeing his own vision through to completion. (Perhaps it's not coincidental that all three of his pre-Hannibal shows — Wonderfalls, Dead Like Me, and Pushing Daises — have not lasted more than two seasons.)  "He's extremely demanding and quick to criticize," admits Hannibal executive producer and frequent director Michael Rymer. "He has a vision that he wants put out there, and he doesn't compromise. We're left to try and figure it out without necessarily having all of the resources to give him what he wants." Adds Hugh Dancy, who plays detective Will Graham on Hannibal: "The basic fact is that the show is Bryan's. He is the force of everything we do."
Fuller doesn't deny his lofty standards; he says he expects all of his collaborators, from actors to wardrobe to the NBC executives — who surely can't help but sweat Hannibal's meager ratings and struggles in its shifting time slot — to meet them. Case in point: Fuller waged an early Hannibal-related battle with NBC President Jen Salke over casting the little-known Mads Mikkelsen in the lead role. "I know you're saying you don't see him in the role," Fuller recalls telling her, "but I can only see him in the role."
Fuller is more fearful of delivering a poor product to audiences, he says, than of pissing off "the studio." "I live in active terror of mediocrity," says Fuller, whose OCD keeps him at nights. "Usually I'm the last one standing with the dukes still raised when other more diplomatic folks would say, 'Okay, it's good enough.'" He pauses and adds: "I don't have that gene."
***
Growing up one of five children to an electrician father and homemaker mother in the northwest Idaho manufacturing town of Lewiston, Fuller thought making it as a writer and filmmaker was an impossibility: "It seemed something that magical people in another world did, and I wasn't one of them," he says. "I was more in awe of films as opposed to feeling that it was something achievable for me to do." An avid reader who'd stay up late at night devouring Stephen King, Clive Barker, and Anne Rice's The Vampire Chronicles, a young Fuller stoked his imagination and quickly developed a facility for intense visualization. "I would read a book and then I would see the movie, and then I would get frustrated because they missed some sort of detail that was in the literature," he says.
Fuller enrolled at nearby Lewis-Clark State College, majoring in psychiatry ("I was so fascinated with how we work and why we work"), but it became clear his passions laid elsewhere: One of his early projects was an analysis of how audiences reacted on a psychological level to Alien. "The next time I had my teacher-student conference meeting, I came in and my teacher had pamphlets for all these film schools on his desk," Fuller says. "He was like, 'Pick one. You don't belong here.'"
Fuller subsequently enrolled in USC's film program, but he credits his summers spent at the acclaimed Groundlings sketch-comedy school with refining his writing skills. Under the tutelage of teachers including Kathy Griffin and Mindy Sterling, Fuller honed his craft. "Before going onstage I'd have these massive panic attacks where I would pray for a car to come careening off of Melrose Avenue into the theater," Fuller recalls with a laugh. "I didn't care who died as long as I didn't have to go onstage."
After several years doing temp work, Fuller was hired in 1998 as a staff writer for Star Trek: Voyager, and worked his way up to co-producer until the show was canceled in 2001. Soon after, he got his first major break: He sold Showtime on the pilot spec he'd written for Dead Like Me, a comedic drama centered on an 18-year-old, part-time grim reaper who escorts souls into the afterlife. The well-received show lasted two seasons — Fuller left after one. His next major endeavor, the short-lived Wonderfalls, aired on Fox for only four episodes before being relegated to DVD, and again showcased Fuller's surrealistic leanings (a Niagara Falls employee communicates with stuffed bears and mounted fish). But it was Fuller's next project that best displayed his ability to write whip-smart dialogue set against a visually stunning backdrop.
"I love that story so much," says Lee Pace, who starred as Ned in the Fuller-helmed Pushing Daisies, the critically adored, Emmy-nominated ABC "forensic fairy tale" about a pie-maker who brings the dead back to life. "The world Brian made was just so creative," says Pace, who previously worked with Fuller on Wonderfalls. "Every detail is important to him. I really believe the show was ahead of its time." Like the filmmaker's previous works, however, Pushing Daisies was canceled after two seasons. Fuller describes the show's legacy this way: "When the alien overlords are looking through the debris of planet Earth and they find an old Blu-ray of Pushing Daisies, they'll get one interpretation of the human condition through a fairy tale."
After Daisies, Fuller bided his time as a writer and producer on NBC's Heroes, which earned him an opportunity to write the pilot for Hannibal, a TV adaptation of the famed Thomas Harris novels. Fuller wasted little time diving in headfirst. "Before I actually got the job, he was supposed to pitch me the first couple of episodes," recalls Mikkelsen. "He had ten minutes, and after two hours he was still going on about seasons eight and nine."
For Fuller, Hannibal provided the perfect template to indulge in his love of thick, poetic prose. "There's a music to [his writing], a poetry to it that you cannot dismantle," says the director Rymer. Mikkelsen is more blunt in his assessment: "Being a foreigner, I have to admit there were quite a few words I had to look up. I had simply no idea what they meant."
It doesn't come easy for Fuller. "If a bad line comes out of me, I stop and go, Fuck, I'm a hack!" he says. "It's so easy to stop at the obstacles and go, Jesus, I don't deserve to write another word."
But more important to Fuller are the highly stylized visuals, which he likens the show to "early '80s pretentious art films," like Tony Scott's The Hunger. "I want the images on the screen to evoke an emotional response," Fuller explains. "If they're beautiful then they can get under your skin more easily. And then you realize, 'Oh my God! That's actually a horrible thing that I'm looking at, but it's so gorgeous that I understand the point of view of the creature or killer or villain.'"
***
Fuller remains unsure whether Hannibal will be picked up by NBC for a fourth season. "Thank you for the support!" he'll often say, as if your viewing is single-handedly keeping the show on the air.  Though if he gets the chance to pen another season, Fuller already has it fully plotted out (in his head, at least — a blank page still strikes fear in him).
He hopes to direct more in the future, but demands in postproduction, tone meetings with directors, talking NBC executives off the ledge … it all gets in the way. For now, he's deep in postproduction: It's a few weeks before the premiere, and Fuller is still in Toronto, where the show shoots. He's doing what he's prone to: sweating the small stuff.
"He will literally sit and watch the show, watch the edit, and almost have a second burst at writing," Dancy explains of Fuller's postproduction process. "He's watching it and thinking, I can elevate it if we insert this particular image here or this particular macro shot there. I could still amp it up." It's not uncommon to receive emails from Fuller over these final weeks before the new season, detailing how he's being "pulled in a dozen directions."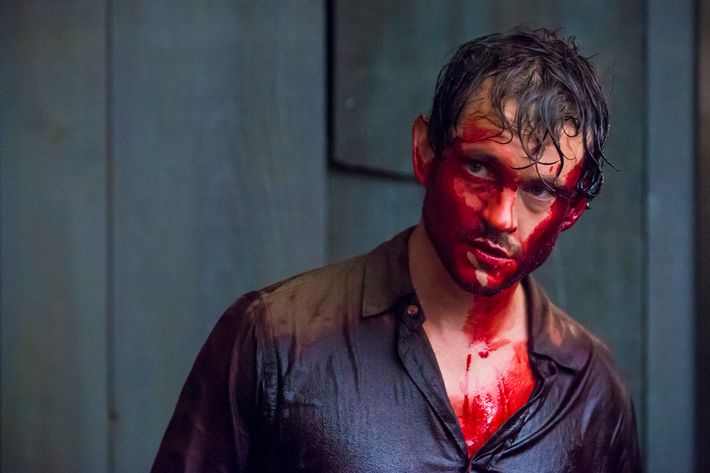 His cast feels the weight of Fuller's vision every time a script lands. "Usually it's a mixture of excitement and frustration," Dancy says of receiving new Hannibal scripts. "You're [frustrated] you don't have a month to go away and figure it out. But underneath that more stylized veneer there's always some kind of emotional truth. The challenge is to drill through the veneer into the well beneath."
Fuller's fear, he says, is "always feeling like there is a better version of this scene that is taunting me from the other side of completion, and it's making me nuts that I can't quite land it."
"If you're afraid of not doing a good job, you're going to do a better job," he continues. "I think it's okay to be afraid."