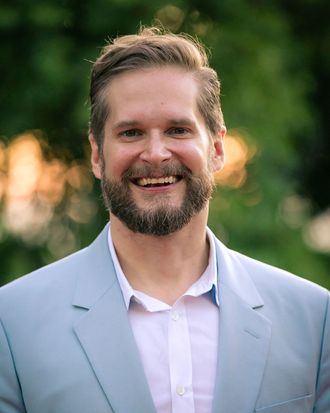 #SaveHannibal.
Photo: Gabriel Olsen/Getty Images
One of the hopes we had for season four of Hannibal was the possible introduction of Clarice Starling, a character made famous by Jodie Foster in The Silence of the Lambs. MGM has the rights to the character, though, and last year, showrunner Bryan Fuller said that he had planned to include Starling and others in his ever-expanding Hannibal universe. "It's always been tricky with MGM because they have all the characters that originate in Silence of the Lambs, and there are so many, not just Clarice," Fuller told Vulture on the red carpet at the Saturn Awards Thursday night, where the show took home three awards, including Best Network TV Series. "I want Buffalo Bill. I want to tell the Buffalo Bill story in a way that hasn't been told before."
Fuller had also joked that they could have a character called "Schmarice Schmarling" as a way around the copyright issue. So naturally, we asked him what Jodie Foster thought about that. "I've asked Schmodie Schmoster if she wanted to direct an episode, because she's a brilliant director," he said. "But that's the only conversation I've had with Schmodie Schmoster." Keep that petition going, everyone! Season four could bring a Clarice Starling arc directed by none other than Schmodie Schmoster.