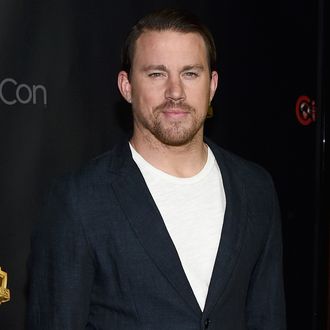 Channing Tatum.
Photo: Michael Buckner/Getty Images
Heads up: Channing Tatum has been promoting Magic Mike XXL like a fiend in full force, unleashing an unrelenting wave of pelvic thrusts and booty claps on the general public over the last couple of weeks. First he struck, undercover, at a prank Magic Mike screening earlier this month. USA Today reported that the actor dressed up as a much older man in the form of a movie executive to conduct faux market research; then, after interviewing fans about the first Magic movie, he gave everyone an unforgettable 3-D experience. He reportedly partnered with the charity-fund-raising platform Omaze to help the Runa Foundation, because he is magic.
Here's that gem in all its glory (also, someone please help the woman at 2:59):
Next, TMZ snagged footage of Tatum showing off his moves last Thursday in Las Vegas. He was attending the risqué Absinthe show there simply as a spectator, but quickly became part of the entertainment after an absurd emcee egged him on. Here he is making this person's life:
And last (slash latest), but definitely not least, Tatum, looking like a hipper version of Fred from Scooby Doo, took to the L.A. Pride parade to ride a float, wear an ascot, and (kind of) dance. Groovy (co-stars Matt Bomer and Adam Rodriguez were also there to help celebrate and show support):
Honestly, what a magician. The movie's out July 1, so keep your eyes peeled: Tatum and his pelvic thrusts could be coming to a city near you before then, and you could be an unexpected marketing victim. Who knows?