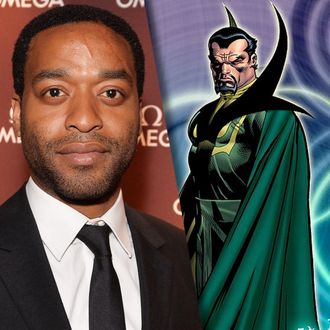 We know who-wetel he's suiting up for.
Photo: David M. Benett/Getty and Marvel
Deadline has finally found out who Chiwetel Ejiofor will play in Marvel's Doctor Strange: In the film's cast of overqualified British thespians, he'll take the part of Baron Mordo, a villain who trains alongside Benedict Cumberbatch's Strange at the foot of the Ancient One (Tilda Swinton), before attempting to kill his instructor. Baron Mordo is not to be confused with Baron Zemo, a completely unrelated character who will be played by Daniel Brühl in 2016's other Marvel film, Captain America: Civil War. The Marvel Cinematic Universe: more barons than Downton Abbey!