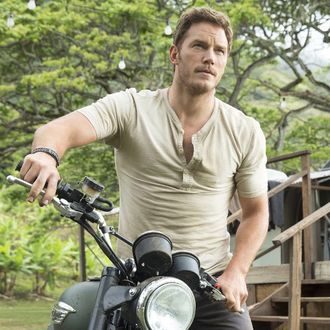 Chris Pratt.
Photo: Chuck Zlotnick/Universal Pictures
One of the best parts about Jurassic World is that Chris Pratt essentially plays Cesar Millan with prehistoric tendencies. Pratt's character, Owen, is a Navy man turned questionable park employee who has a special bond with a pack of velociraptors, all in the name of research. For a solid chunk of the film, Owen tries to gain the trust of said raps with experimental training tactics; his goal: to become their alpha male and invent a new man's best friend. Since it's unclear right away if the dinos accept Owen, the raptor-whispering scenes are a joy to watch because they're a blend of tension, humor, and weirdness.
Namely, there's this squad-goals gem, in which Pratt comes face-to-face with his pals for the first time:
Because Pratt and his raptor-training antics are awesome, the scene has inspired a craze in the zoo community that has keepers (and normal people, too) reenacting the now-iconic confrontation. Keepers everywhere are standing in front of trios of (not as deadly, but still cute) animals, arms outstretched, inner alphas unleashed, to get their pics taken for your social-media viewing pleasure. These are the real heroes, everyone. Welcome to #JurassicZoo:
Oh, and I guess the virtual world's in on it, too:
Okay, back to real-life animals:
Humans are animals, too?:
If you're into raptoring like the above national treasures are, search #JurassicZoo and #JurassicZookeeper on Instagram and Twitter to find more pics as they come. Or bless the world with your own. Just be safe.