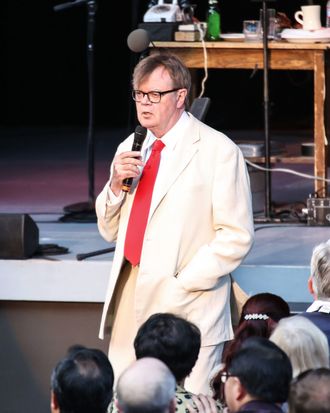 Photo: Chelsea Lauren/Getty Images
Welcome to Lake Wobegon, the little town that time forgot and the decades cannot improve. These words must be running through Chris Thile's mind right now. The young mandolinist and bandleader from California is set to replace Garrison Keillor, the town crier for the fictional Minnesota hamlet, as the host of "A Prairie Home Companion," the public-radio show that you probably haven't listened to since you were a kid. It hasn't changed much since those days, either, and that's the show's biggest challenge: Can it be improved upon, when by now it's mostly been forgotten, especially by young listeners who jeer at its heartland humor?
Since 1974, "A Prairie Home Companion," a longstanding public-radio staple on family road trips, has stubbornly stuck to its original format — a variety show and champion of the dying art of old-time live radio. In 2006, it was the subject of a star-studded Robert Altman film in which the cast and crew prepare for its final curtain. The movie is as much a salute to the show's hard-won survival over the course of decades as it is to Keillor himself, the consummate storyteller who created memorable characters like Guy Noir, Private Eye, and Dusty and Lefty. In a New York Times review of Keillor's book Leaving Home, Spalding Gray wrote that the stories on "APHC" are "contemporary folk tales of American comic-karma, always demonstrating that you reap what you sow." Keillor's sly way of cloaking perverse examples of America's flatulence in wholesome, homespun imagery has been a winning format for over four decades, but its core audience, like Keillor, now 72, has aged. The show desperately needs a shot in the arm.
Enter Thile, the 34-year-old Americana diehard who first appeared on "APHC" at age 15. He's a little older than Keillor was when the show first aired, and his introduction as host is the biggest shake-up in 40 years of "APHC" history. Thile will co-host alongside Keillor before he's phased in as a full-time host sometime after 2016, and the change, which Keillor announced while rehearsing for his 16th annual live broadcast from Tanglewood, is long overdue. In a way, passing the torch to Thile feels like Jon Stewart giving his chair to Trevor Noah on the Daily Show; "APHC" isn't going to be the same without Keillor, but no one should expect it to be.
In 2009 Keillor said the show would scale back on the storytelling while ratcheting up live music as it looked to the future. This shift makes Thile, currently on tour with his bluegrass trio Nickel Creek and a gifted musician who has already subbed as a host twice, a natural fit. His biggest mistake would be to try to re-create Keillor's vision of a corn-fed version of the Grand Ole Opry filled with weather reports and "above-average children." He needs to create a vision of his own, which is the only way to win over young listeners. They said good-bye to the news from Lake Wobegon a long time ago, and they're not necessarily aching for it to come back.