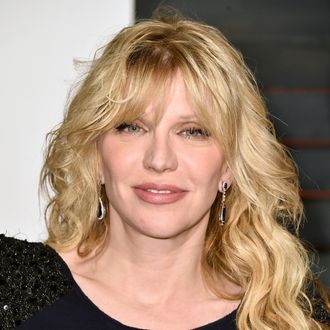 The unhappy Ms. Cobain.
Photo: Pascal Le Segretain/Getty Images
Courtney Love's lawyers sent a cease-and-desist letter to the makers of the Kurt Cobain film Soaked in Bleach, Deadline reports. Unlike the HBO documentary Kurt Cobain: Montage of Heck, which had Love's full blessing, Bleach is an "unauthorized docudrama" that relies on the testimony of private investigator Tom Grant and reenactments of Cobain's life. Crucially, it also explores conspiracy theories that Love killed Cobain. "The Film falsely presents a widely and repeatedly debunked conspiracy theory that accuses Ms. Cobain of orchestrating the death of her husband Kurt Cobain," the lawyer's letter reads (the entirety of which can be read here.) "Any alleged factual representation to the contrary would be knowingly false, and hence intentionally and maliciously defamatory." The Seattle police department reexamined the evidence in 2014 and ruled Cobain's death a suicide.
The producers of Soaked in Bleach have responded in kind, calling the letter "a cowardly attack on the rights of free speech, free expression and free choice." As of now, the docudrama is still available to watch on Vimeo. As for Love, if her stint on Empire has taught her anything, she should be asking herself: What Would Cookie Do?