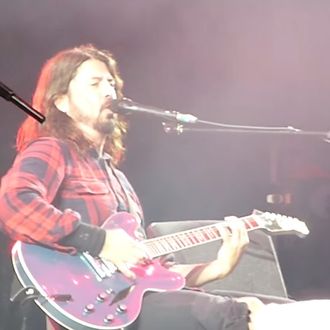 Living legend Dave Grohl lives, breathes, sweats, and bleeds rock and roll. He's so rock and roll, he broke his leg during a concert last night and still finished the performance.
As Pitchfork reports, Grohl took a tumble offstage in the usually peaceful city of Gothenburg, Sweden. "I love you guys," Grohl said, "But I think I just broke my leg. I'm going to go to the hospital. I'm going to fix my leg. And then I'm going to come back. You have my promise right now that the Foo Fighters — we're going to come back and finish the show."
Grohl left the arena while the Foo Fighters amused the crowd with covers sung by drummer Taylor Hawkins. Keeping his promise, Grohl eventually returned, in a cast, and finished the show from a chair with his broken leg propped up. "I can still play guitar and scream," he said before playing guitar and screaming.
The Foo Fighters' official Twitter account posted this picture, proving that Grohl indeed broke his leg:
Here's a video of Grohl performing "All My Life" with his cast on. Rock on, dude: