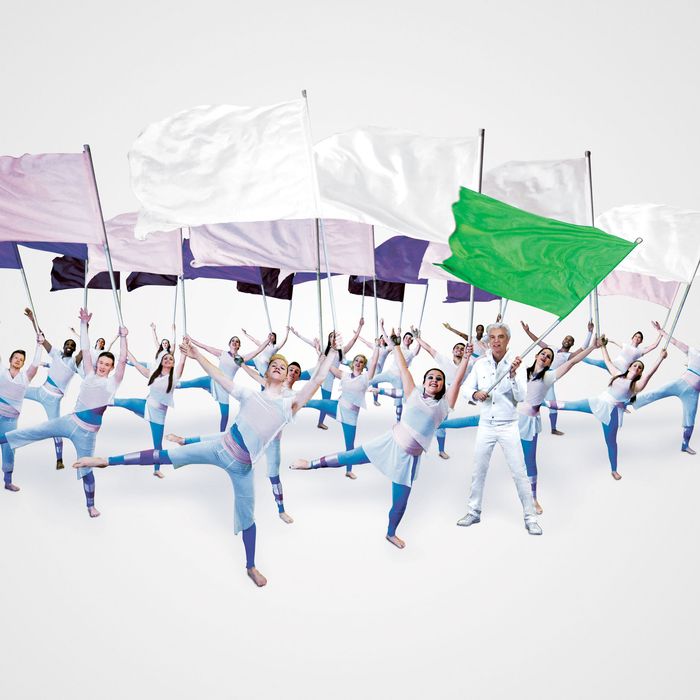 The Black Watch color-guard team is one of ten elite teams performing in "Contemporary Color" this month.
Photo: Herring & Herring
In the high-school hierarchy of cool, there's not much below the level of band geek, except perhaps the color-guard squad — the ones twirling flags at football games. But if it's up to musical polymath David Byrne, that's about to change. In 2008, after a Massachusetts team asked to use his compositions for the Winter Guard International championship, Byrne thought, "Wow, there's this really crazy homespun creativity going on across the country and nobody in New York has ever heard of it," he recalls. "Including me."
On June 27 and 28, the result of Byrne's growing fandom (he's now attended three world championships) will be on display at Barclays Center in "Contemporary Color," a show matching musicians including Byrne himself, Nelly Furtado, and erstwhile Beastie Boy Ad-Rock with ten elite color-guard teams from across North America. This isn't some quaint folk-culture pageant, though. The programs, which resemble a mix of rhythmic gymnastics and modern dance, "have serious ambitions," Byrne says. "They get very creative, and often there's a message — themes of world peace." There's also enjoyable kitsch: One team with a Hitchcock-inspired performance will tote mini Psycho showers onstage.
Byrne spent a lot of time thinking about which musicians to pair with which teams. "One team, their theme is 'Lunatic'; it's set in a mental hospital," he says with a chuckle. "Having worked with [St. Vincent's] Annie Clark, I just thought, She'll love this." The Black Watch team (pictured) will work with Devonté Hynes (who performs as Blood Orange). The singer and producer was attracted to the challenge of making music for a preset routine. "It's like film scoring," he says, "but they have cues they know to hit already, so you've got to work within that."
For his part, Byrne will perform original music alongside Canadian color-guard team Les Eclipses. "It's very much a gospel song," he says about their collaboration, "but no deities are mentioned." Instead, the song "expressed the outsider feelings a lot of the color-guard kids have. There's a sense of optimism and belonging — it's a home away from home." Still, Byrne has tried to get the participants to follow him out of their comfort zones. "It's a very ingrained habit to feel like they're in competition," he says. "I'm trying to impart to them, 'You know, the audience is not scoring you. They're just there to go ooh and aah.' "
*This article appears in the June 15, 2015 issue of New York Magazine.