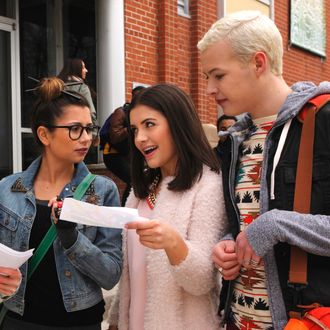 RIP.
Photo: Stephen Scott/Nickelodeon
After 14 seasons, lots of breakups, a few pregnancies, and several coming-outs, Degrassi will officially have to find a new home. TeenNick has announced that the series, a continuation of the Canadian teen drama that aired in the '80s, will say farewell to the network this July with a two-week "finale event" kicking off on July 20. Its last episode on TeenNick will be an hour-long special called It Goes There: Degrassi's Most Talked About Moments on July 31. (The show will reportedly return with new episodes on another yet-to-be-named U.S. network.) Inevitably, they'll have to wrap up Claire and Eli's pregnancy, but what about the Degrassi OGs? (And no, we're not talking about Archie Simpson and that gang.)
This season so far has had a cameo from Spinner (yep, he still runs the Dot), but there's one person we haven't seen since season eight: Drake! Did Jimmy Brooks actually marry his physical-therapy boo? Is he walking now thanks to those stem cells? What the hell happened to his rap career?! We obviously know the real-life answer to that last one. But just imagine Drake coming back for a Degrassi High pep rally to run through the 6 with his woes one last time.
This post previously incorrectly stated the series was ending.