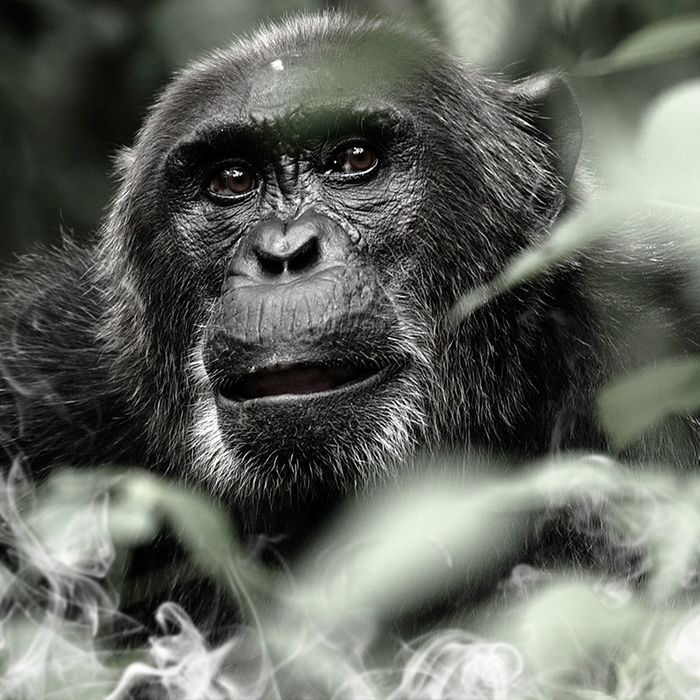 If animals got stoned, would they enjoy watching humans?
Photo: Kristen Mosher/Discovery Channel
In the states where marijuana is legal, dispensaries employ budtenders — weed sommeliers who can recommend strains based on the kind of high you want, what activities you might be doing while stoned, or any physical or mental conditions you're looking to treat. Given that they're so good at offering pot tips, we wondered what cultural recommendations they might have for stoners. We asked the employees of two shops, Blum in Oakland, and the Exhale Med Center in Los Angeles, to give us their favorite music, movies, TV, books, and activities to experience while high.
Chris Joynt (Budtender at Exhale)
As a teenager, Pink Floyd's Piper at the Gates of Dawn opened up a world of imagination for me. Floyd did amazing stuff later on with Dark Side of the Moon and everything, but Syd Barrett had a childlike nostalgia that cannabis always brings back for me. Side tip: If you're listening to this album with headphones, try taking one ear out to get a whole different experience.
For TV shows, I turn to Peep Show, an amazing British comedy that covers every aspect of what's it's like to be a human being. It stars two of the funniest men to come out of Britain, Mitchell and Webb. They have multiple radio shows, talk shows, sketch-comedy shows, but Peep Show is one of their best because it's all first-person. You can find it on the BBC or Netflix.
Rachel Bussey (Budtender at Blum)
I love nature documentaries — Life from the Discovery Channel, Planet Earth, Wild Pacific. It's cool because you're learning, but it's also entertaining to see things in kind of a different light. It's like, "How many times have we seen an elephant grazing?" but for some reason, when you're high, it's like, "Oh my God. Did you see that? It almost stepped on that rock!" Little weird things like that.
I also go on the Monterey Bay Aquarium website to see what they've found down in the depths. They take a submersible down into the Bay and catch new stuff every day. They're like, "We don't even know what this fish is, but it looks cool." When I'm at home watching that, it's kind of like I just helped them find this new animal. "I was a part of that! I saw it happen!" I'm easily amused, I guess, but it's life. I'm a little mermaid at heart.
Autumn Flores (Budtender at Exhale)
There are a lot songs I didn't realize I liked as much as I do until after I smoked and heard them. I started listening to a lot more classics, like Frank Sinatra. "Hey! Jealous Lover" and "The Lady Is a Tramp" are recent favorites. With all the mainstream stuff on the radio, people don't step out of the box to find anything more.
If you want to get your mind blown really quick, watch Santana performing "Soul Sacrifice" at Woodstock. All of these guys are tripping really hard on LSD, and just to watch their faces … we all sit around and laugh. You can tell that the piano player is literally holding on to the piano for dear life. It's cool to see all their faces, they're really into it, and to see Carlos Santana so young, just rocking so hard. It's 2015 and I'm 22 years old, and I watch that video and my mind is blown like I'm standing in the damn audience.
Joel Rodriguez (Manager at Blum)
Quentin Tarantino things are great to watch when you're stoned. They're so captivating and entertaining. Two documentaries I watched recently were Marley and the Kurt Cobain one, Montage of Heck. We watched that one here while we were working and getting stoned. He's giving you life, raw. That's as real as you're going to get. Bob Marley's one of my favorites, so to be able to kind of clarify his life and see more of an intimate side was interesting.
For music, I like Marley, Curren$y, Santana, Wiz Khalifa, Red Hot Chili Peppers' Californication. It depends on the mood and the vibes the music gives off. If you're medicating on the indica, you want more of a chill vibe, not too much energy. Then somedays you're up, smoking a little sativa, cleaning the house, and you want to listen to something more up-tempo — EDM or Motown.
Shelby Lewis (Budtender at Exhale)
Bridesmaids is one of the only movies I can watch over and over without getting sick of. The airplane scene where she's drunk and takes the pill and keeps calling the guy Stove when his name is Steve, saying, "Help me, I'm poor." That's a line I say a lot. I also really like Italian comedies. The Last Kiss is a really funny one. My boyfriend is from Italy and I like their style of humor, even though sometimes I don't know what they're talking about. Maybe that's why it seems like a comedy.
Currently I'm reading The Celestine Prophecy, and it's great. I love reading things that explain universal theory or explore alternative ways of thinking. It made me realize the ways I've thought about things aren't so crazy. Maybe there are alternative thoughts out there that could be the right ones. I also watch a lot of conspiracy-theory stuff on YouTube. I don't consider myself a paranoid person, but it definitely has made me think that everything you see might not be the way it is. It at least allows you to have options to base your opinion around rather than just the information you've been given your whole life.
Stephanie Graser (Budtender at Blum)
I love epic movies, like Casino, Goodfellas, Gangs of New York, something I can really get into. When I'm high, it draws me in even more. It's like a roller coaster — you can actually feel yourself as a part of it. Before I know it, it's been like three hours and I went through an adventure in my mind.
Thumbing through art books is something I really enjoy after toking. I collected a few of them while traveling abroad. One is a large, glossy book filled with art from the Louvre in Paris, Louvre: The Arts Face to Face. I always keep it close by in my private library. I love the rush of emotion when I look through the pages. It's like all the memories from traveling are no longer just memories — for a few moments they are my reality again. It's amazing to be able to connect and get lost in something so beautiful.