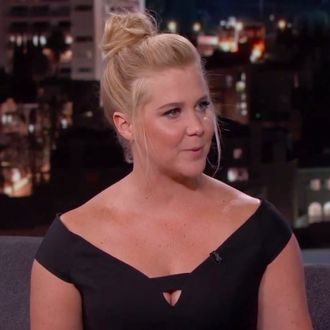 In Monica Heisey's new piece in The Guardian about Amy Schumer and her insanely good year, the writer praises Schumer's unapologetic feminist stances, but also criticizes the comedian for racial insensitivity:
For such a keen observer of social norms and an effective satirist of the ways gender is complicated by them, Schumer has a shockingly large blind spot around race. Her lacklustre stint hosting the MTV Movie awards (a rare misstep) featured lazy jokes about Latina women being "crazy" that left Jennifer Lopez as unimpressed as the online commentariat. While a much-lauded sketch from the show featured an ad for a training centre where old people learn not to be racist, Schumer's stand-up repeatedly delves into racial territory tactlessly and with no apparent larger point. Her standup special features jokes like "Nothing works 100% of the time, except Mexicans" and much of her character's dumb slut persona is predicated on the fact that the men she sleeps with are people of colour. "I used to date Latino guys," she says in an older stand-up routine. "Now I prefer consensual."
Schumer subsequently took to Twitter to rebut Heisey's assertion:
I will joke about things you like, and I will joke about things you aren't comfortable with. And that's OK. Stick with me and trust I am joking. I go in and out of playing an irreverent idiot. That includes making dumb jokes about race.
She then goes on to insist that those jokes are funny, that she has a right to make them, and making them doesn't mean she is racist:
I am not going to start joking about safe material. And don't ask that of me. I love what I do and won't let anyone take that away. I ask that you resist the urge to pick me apart. Trust me. I am not a racist. I am a devout feminist and lover of all people. My fight is for all people to be treated equally. So move on to the next person who is more deserving of your scrutiny and not the girl in your corner.
Of course, Schumer isn't the first comedian to have to defend herself against such claims. Just ask Trevor Noah. Or Jerry Seinfeld. Or Chris Pratt.
Schumer's full response is below: