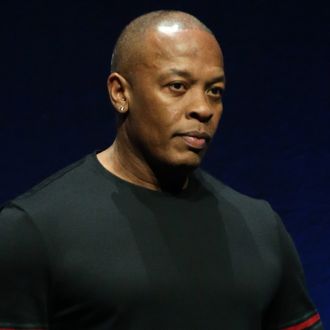 What else does Dre have up his sleeve?
Photo: Gabe Ginsberg/WireImages/Getty Images
For all the noise that's been made about Apple Music securing the rights to stream Taylor Swift's 1989, there's an even more acclaimed album that'll be available on the streaming service for the first time. After 23 years, Dr. Dre's seminal G-funk classic The Chronic will finally make its streaming debut when it hits Apple Music on Tuesday, reports Rolling Stone. Given Dre's relationship with Apple (his Beats Music was acquired by the tech giant last year), that news might not immediately come as a shock. But it's worth appreciating the long and peculiar road it took for The Chronic to get to Apple Music: Up until 2011, Dr. Dre didn't even own the digital rights to his debut album. Like many artists, he'd been locked in a legal battle with his former label, Death Row Records, over unpaid royalties. But, strangely, even after winning back the rights to distribute the album digitally four years ago, he kept The Chronic under lock and key. As of June 2015, it's still not available for download on American versions of iTunes or Amazon; you won't find it on Spotify, Tidal, or any of their competitors; and even when Dre launched his own Beats Music service in 2014, The Chronic remained absent.
So why now? For starters, it means Apple has one more exclusive to rub in the faces of its rivals. It could also mean that, after approximately a century, Detox, Dr. Dre's long-awaited unicorn of an album, might also be headed to Apple Music shortly. (Or least the Apple Music of our dreams.) If there was any time it'd make sense for Dre to pull a U2, it's probably now. When's the last time you checked your iTunes library?