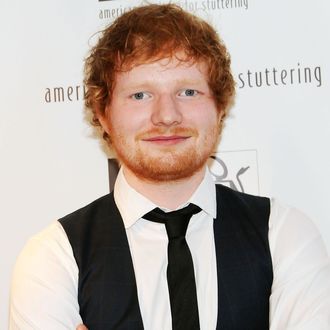 Photo: Desiree Navarro/Getty Images
Team Taylor committee member Ed Sheeran has weighed in on this year's Song of Summer race, and according to the crooner, the award goes to … "Shut Up and Dance" by Walk the Moon, a song that was released last year but is only now inching its way toward the top of the pop charts.
"I'm just hearing that everywhere," he told Vulture this week during the American Institute of Stuttering Gala at the Lighthouse at Chelsea Piers. "It just makes everyone happy whenever they hear it. I really like that song." Sheeran himself is not a contender this year but says there are no hard feelings. "I had a song of the summer last year," he pointed out, "so I'm cool not having one. And my songs are really slow this year."
For a runner-up, Sheeran curved Swift's "Bad Blood" in favor of New Jersey rapper Fetty Wap. "It's amazing that 'Trap Queen' is such a massive hit," he said. "I love that." He recently covered the hit on Fallon joined by the Roots, which you can watch here.
* An earlier version of this post incorrectly stated that Sheeran is Canadian. He is from England.